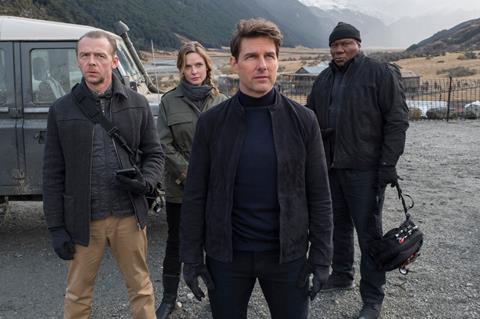 AUGUST 6 UPDATE: Mission: Impossible – Fallout held firm at number one in its second weekend in North American as the Paramount-Skydance action thriller added a confirmed $35.3m for $124.8m, while Black Panther crossed $700m on Sunday and became only the third film to do so.
The Tom Cruise vehicle Fallout fell a respectable 42.3% in its second weekend and stands at $329.8m worldwide.
Disney's Christopher Robin arrived at number two through Buena Vista on $24.6m in 3.602 theatres. Ewan McGregor stars as Christopher Robin, a working class man who rediscovers his love of life when he encounters his old friend Winner The Pooh.
Action comedy The Spy Who Dumped Me from Lionsgate and Imagine opened at number three on $12.1m in 3,111 sites. Mila Kunis and Kate McKinnon star. Fox's sci-fi thriller and YA adaptation The Darkest Minds arrived at number eight on $5.8m in 3,127 venues.
Universal's Mamma Mia! Here We Go Again fell two slots to number four in its third weekend, adding $9m for $91.2m.
Sony's The Equalizer 2 also dropped two, to number five, grossing $8.8m for $79.8m after three weekends. Pixar's Incredibles 2 ranks ninth on $583.1m after eight sessions. It ranks as the highest grossing animation in North America and the ninth highest overall.
Marvel Studios' Black Panther crossed the $700m mark on Sunday in its 25th week of release and become only the third film to do so. Its global tally is $1.347bn.
Documentary Death Of A Nation opened at number 13 via Quality Flix on $2.4m in 1,005 venues.
The top 12 combined for $126.5m, down 13.4% on last weekend and up 14.6% on the comparable session in 2017.
This week's wide releases are: thriller The Meg through Warner Bros starring Jason Statham and Li Bingbing; and horror title Slender Man from Screen Gems with
Confirmed top 10 North America Aug 3-5, 2018
Film (Dist) / Conf wkd gross / Conf total to date
1 (1) Mission: Impossible – Fallout (Paramount) Paramount Pictures International $35.3m $124.8m
2 (-) Disney's Christopher Robin (Buena Vista) Walt Disney Studios Motion Pictures International $24.6m –
3 (-) The Spy Who Dumped Me (Lionsgate) Lionsgate International $12.1m –
4 (2) Mamma Mia: Here We Go Again! (Universal) Universal Pictures International $9m $91.2m
5 (3) The Equalizer 2 (Columbia Pictures) Sony Pictures Releasing International $8.8m $79.8m
6 (4) Hotel Transylvania 3: Summer Vacation (Columbia Pictures) Sony Pictures Releasing International $8m $136.3m
7 (6) Ant-Man And The Wasp (Buena Vista) Walt Disney Studios Motion Pictures International $6.4m $195.6m
8 (-) The Darkest Minds (Fox) Fox International $5.8m –
9 (7) Incredibles 2 (Buena Vista) Walt Disney Studios Motion Pictures International $4.9m $583.1m
10 (5) Teen Titans Go! To The Movies (Warner Bros) Warner Bros Pictures International $4.8m $20.7m