DECEMBER 7 UPDATE: Lionsgate's YA adaptation held on to number one for the third consecutive weekend and climbed to a confirmed $227.4m while Universal's Krampus arrived in second place on $16.3m.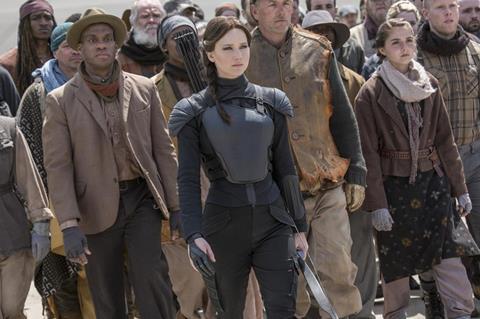 The horror comedy about a malign Christmas spirit stars Adam Scott and Toni Collette. Spike Lee's Chicago-set musical-drama Chi-Raq about gang violence opened at number 13 on $1.2m from 305 venues.
Fox Searchlight delivered an impressive debut for Paolo Sorrentino's Youth starring Michael Caine, Jane Fonda, Harvey Keitel, Paul Dano and Rachel Weisz at number 34 on $78,085 from four.

Disney-Pixar's The Good Dinosaur ranks third on $75.8m after two while Creed dropped to number four and stands at $64.6m via Warner Bros after two sessions with a shot at crossing $100m by the end of its run.
Spotlight – Sunday night's best picture and screenplay winner at the Los Angeles Film Critics Association awards – held firm at number eight on $2.8m for $16.5m after Open Road expanded the theatre count by 83 to 980 in the fifth weekend.
Brooklyn at number nine added $2.4m for $11.2m also in the fifth session as Fox Searchlight increased the footprint by 61 to 906.
Mother Teresa drama The Letters starring Juliet Stevenson opened at number 16 through Freestyle Releasing on $700,683 from 886.
TWC launched Michael Fassbender and Marion Cotillard in Macbeth at number 35 on $69,833 from five, while Cohen Media Group opened Hitchcock/Truffaut at number 43 on $28,178 from three.
Overall box office for the top 12 amounted to $89.9m and dropped 48.1% against last weekend but gained 21.2% on the same period in 2014 when The Hunger Games: Mockingjay – Part 1 ranked number one for the third weekend in a row.
This week's wide release is Warner Bros' seafaring drama In The Heart Of The Sea directed by Ron Howard and starring Chris Hemsworth.
Confirmed top 10 North America December 4-6 2015
Film (Dist) / Conf wkd gross / Conf total to date
1 (1) The Hunger Games: Mockingjay – Part 2 (Lionsgate) Lionsgate International $18.9m $227.4m
2 (-) Krampus (Universal) Universal Pictures International $16.3m –
3 (2) The Good Dinosaur (Pixar-Buena Vista) Walt Disney Studios Motion Pictures International $15.3 $75.8m
4 (3) Creed (Warner Bros) Warner Bros Pictures International $14.9m $64.6m
5 (4) Spectre (MGM-Sony) Sony Pictures Releasing International-MGM $5.5m $184.6m
6 (6) The Night Before (Sony) Sony Pictures Releasing International $5m $32.1m
7 (5) The Peanuts Movie (Fox) Fox International $3.6m $121.5m
8 (8) Spotlight (Open Road) eOne Features $2.8m $16.5m
9 (9) Brooklyn (Fox Searchlight) HanWay Films $2.4m $11.2m
10 (7) The Secret In Their Eyes (STX Entertainment) IM Global $1.9m $17.2m