OCTOBER 19 UPDATE: The streaming giant's first original film Beasts Of No Nation starring Idris Elba and Abraham Atta ventured into 31 theatres at the weekend, grossing a confirmed $51,003 from Landmark venues.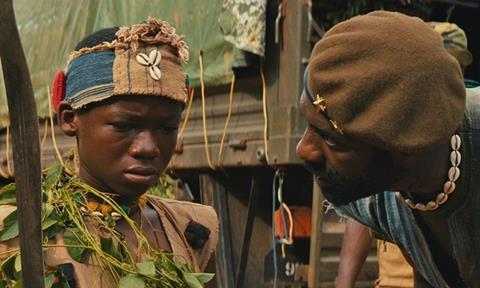 The African child soldier drama from Cary Fukunaga made its theatrical debut via Netflix's theatrical partner Bleecker Street day-and-date with the streaming launch across Netflix's fast-growing global network.
The low number - the film averaged $1,645 - could be attributed to the fact that Netflix subscribers felt no incentive to spend far more than their monthly subscription on a single visit to the theatre to watch a challenging, albeit acclaimed and mature, film.
The digital titan, which last week reported Q3 earnings that fell below expectations, wiil not release data revealing how many people clicked on to stream the film, nor will it provide information on how many watched the entire way through.
In a good sign for the acclaimed film's awards prospects, the Los Angeles Landmark theatre is understood to have generated the most traffic for the film.
Other Landmark markets include New York, Boston, Philadelphia, Baltimore, Washington DC, Atlanta, Indianapolis, Detroit, Chicago, Minneapolis, Milwaukee, St Louis, Houston, Dallas, Denver, Seattle, San Francisco and San Diego.