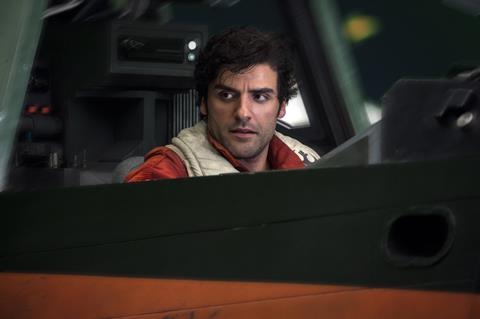 JANUARY 1 2018 UPDATE: Lucasfilm's Star Wars: The Last Jedi finished 2017 as the biggest release in North America after it added a confirmed $52.7m over three days via Buena Vista to overtake Beauty And The Beast on $504m and finish on $517.4m.
The sci-fi tentpole crossed $1bn worldwide – a remarkable feat after three weeks of release – and heads to China this week, where Disney executives will look to a mighty launch.
Sony's Jumanji: Welcome To The Jungle held firm at number two on a terrific $50.4m following a 38.3% gain as the running total climbed to $169.6m after two sessions.
The two films are playing strongly over the holiday season and will make a significant contribution to what the industry is projecting will be an $11.1bn North American box office year. That would mark a strong year-end performance to close the gap on 2016 by some 2%. Full figures will be issued in the days ahead.
Imperative Entertainment's All The Money In The World arrived in seventh place on a lacklustre $5.6m over three and $12.8m over five days in 2,074 theatres. Ridley Scott's J Paul Getty kidnap thriller made headlines when the British director and his financiers yanked Kevin Spacey from the film after allegations of years of sexual misconduct and reshot his scenes with Christopher Plummer.
Universal's Pitch Perfect 3 ranks third on $16.8m for $63.3m after two, while Fox films round out the top five: The Greatest Showman is fourth on $15.6m for $49.1m after two, and animation Ferdinand in fifth added $11.4m for $53.6m after three.
Focus Features delivered a solid limited debut for Paul Thomas Anderson's Phantom Thread at number 25 on $215,000 from four sites for a $53,750 average. Daniel Day-Lewis stars in reportedly his last role as a 1950s London designer who discovers a new muse.
STX opened Molly's Game at number 13 on $2.3m over three days and $5.2m over five on 271 sites. The true story stars Jessica Chastain as former elite skier Molly Bloom, who was busted for running a high-stakes poker game. The drama marks Aaron Sorkin's feature directorial debut.
SPC released the romance Film Stars Don't Die In Liverpool starring Annette Bening and Jamie Bell at number 31 on $34,532 from four.
Box office for the top 12 amounted to $180.1m, which gained 7.4% on last weekend and 3% on the comparable three-day session at the end of 2016.
The first wide release of 2018 will be the Blumhouse horror film Insidious: The Last Key through Universal.
Confirmed top 10 North America December 29-31, 2017
Film (Dist) / Conf wkd gross / Conf total to date
1 (1) Star Wars: The Last Jedi (Buena Vista) Walt Disney Studios Motion Pictures International $52.7m $517.4m
2 (2) Jumanji: Welcome To The Jungle (Sony) Sony Pictures Releasing International $50.4m $169.6m
3 (3) Pitch Perfect 3 (Universal) Universal Pictures International $16.8m $63.3m
4 (4) The Greatest Showman (Fox) Fox International $15.6m $49.1m
5 (5) Ferdinand (Fox) Fox International $11.4m $53.6m
6 (6) Coco (Buena Vista) Walt Disney Studios Motion Pictures International $7.5m $179.8m
7 (-) All The Money In The World (TriStar) Sony Pictures Releasing International $5.6m $12.8m
8 (8) Darkest Hour (Focus Features) Universal Pictures International $5.5m $18.1m
9 (7) Downsizing (Paramount) Paramount Pictures International $4.7m $17.2m
10 (9) Father Figures (Warner Bros) Warner Bros Pictures International $3.8m $12.9m