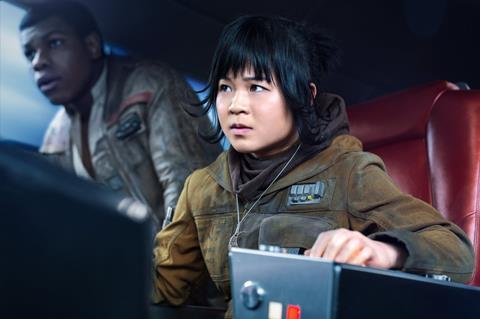 DECEMBER 21 UPDATE: Star Wars: The Last Jedi brought in $37.2m worldwide on Wednesday (December 20) as the running total surged to $573.8m after one week of release.
The eighth episode in Lucasfilm's 40-year franchise added $20.3m through Walt Disney Studios Motion Pictures International to stand at $295m and will cross $300m on Thursday heading into what is expected to be a strong second weekend.
In North America, The Last Jedi grossed $16.9m via Buena Vista for $278.8m and overtook Despicable Me 3 on Wednesday to rank as the seventh highest release of the year-to-date.
With 10 days of 2017 still to go, there is a strong chance the sci-fi will overtake Wonder Woman on $412.6m to finish the year in second place behind Disney stablemate Beauty And The Beast on $504m.
With China still to come on January 5, the UK ranks as the best market for The Last Jedi so far on $50.1m, followed by Germany on $29.8m, France on $22.8m, and Australia on $21.3m.
After that is Japan on $19.6m, Spain on $10.4m, Brazil on $9.9m, Russia on $9.7m, Mexico on $8,7m, Italy on $8.6m, Sweden on $7.2m, Poland and South Korea on $6m, and Denmark on $5.1m.