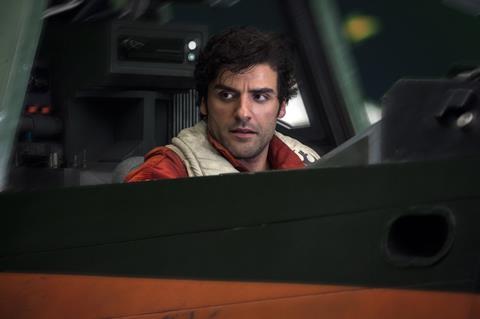 DECEMBER 26 UPDATE: Lucasfilm's Star Wars: The Last Jedi held off the debuts of Jumanji: Welcome To The Jungle, Pitch Perfect 3 and The Greatest Showman over the four-day holiday weekend.
The four-day period saw The Last Jedi gross $99m for $395.6m as it dropped 55% against last weekend's second highest opening weekend of all time, which looks a lot better than the tentpole's alarming 67.5% drop over three days.
By Tuesday the film ranked as the third highest of the year-to-date in North America and was poised to pass Warner Bros' Wonder Woman on $412.6m. It stands a chance of finishing 2017 as the top film if it overtakes Disney's Beauty And The Beast on $504m.
Three new releases burst into the top five led by Sony's reboot Jumanji: Welcome To The Jungle on $55.4m in 3,765 theatres over four days and $72m over six since the December 20 debut. This compares well to $11.1m from the 1995 original starring the late Robin Williams, which in real terms opened on $17.84m.
Dwayne Johnson, Kevin Hart, Jack Black and Karen Gillen star as the adult avatars of four teenagers drawn into a jungle through an old video game console.
Pitch Perfect 3, the third and final entry in Universal's singing troupe series, debuted at number three on $26.4m in 3,447. Anna Kendrick and Rebel Wilson return to the fray, although the debut represented 39% of the $69.2m May 2015 opening of Pitch Perfect 2, which finished on $184.3m in North America.
Fox's The Greatest Showman starring Hugh Jackman as the circus impresario P.T. Barnum arrived at number four on an anaemic $14.4m in 3,006, rising to $19m six five days.
Paramount's satirical awards hopeful Downsizing from Alexander Payne starring Matt Damon, Kristen Wiig, Hong Chau and Christoph Waltz arrived with a whimper at number seven on $7.7m in 2,668 sites. Warner Bros' comedy Father Figures opened at number nine on $5.5m in 2,902 and stars Glenn Close, Ed Helms, Ving Rhames, J.K. Simmons and Owen Wilson.
Working Title's Winston Churchill drama Darkest Hour with Oscar frontrunner Gary Oldman showed suitable mettle to leap eight slots to number eight in its fifth weekend, expanding from 84 sites to 806 and grossing $5.5m for $8.4m.
Another major awards contender, Fox Searchlight's The Shape Of Water, climbed two places to number 10 in its fourth session and delivered $4.4m for $8.9m.
Steven Spielberg's Pentagon Papers drama The Post starring Meryl Streep and Tom Hanks opened strongly through Fox at number 21 on $762,057 from nine for a sensational $84,673 average. Christian Bale drama Hostiles from Scott Cooper opened at number 32 through Entertainment Studios on $32,455 from three sites, while SPC opened Michael Haneke's Happy End starring Isabelle Huppert at number 30 on $30,222 from 33.
Turning to other awards season heavyweights, A24's Lady Bird fell six places to rank 16th on $28.7m after eight sessions; The Disaster Artist fell nine to 17 through A24 on $16m after four; and SPC's Call Me By Your Name on $3.3m after dropping three slots to number 20.
Three Billboards Outside Ebbing, Missouri dropped nine slots to 22 through Searchlight on $22.9m after seven; I, Tonya fell three places to number 24 through Neon and 30West on $1.3m after three; and A24's The Florida Project on $5.2m fell three to number 31 after 12. Holiday weekend box office amounted to $241.9m.
This week's wide release is Ridley Scott's John Paul Getty drama All The Money In The World through TriStar with Michelle Williams, Christopher Plummer and Mark Wahlberg.
Confirmed top 10 North America December 22-25 (December 22-24), 2017
Film (Dist) / Conf wkd gross / Conf total to date
1 (1) Star Wars: The Last Jedi (Buena Vista) Walt Disney Studios Motion Pictures International $99m $395.6m ($71.6m, $368.2m)
2 (-) Jumanji: Welcome To The Jungle (Sony) Sony Pictures Releasing International $55.4m $72m ($36.4m, $53m)
3 (-) Pitch Perfect 3 (Universal) Universal Pictures International $26.4m – ($19.9m –)

4 (-) The Greatest Showman (Fox) Fox International $14.4m $19m ($8.8m, $13.4m)

5 (2) Ferdinand (Fox) Fox International $10.1m $29.6m ($7.3m, $26.8m
6 (3) Coco (Buena Vista) Walt Disney Studios Motion Pictures International $8.2m $164.3m ($5.4m, $161.5m)
7 (-) Downsizing (Paramount) Paramount Pictures International $7.7m – ($4.9m –)

8 (16) Darkest Hour (Focus Features) Universal Pictures International $5.5m $8.4m ($3.9m, $6.7m)
9 (-) Father Figures (Warner Bros) Warner Bros Pictures International $5.5m –
10 (12) The Shape Of Water (Fox Searchlight) Fox International $4.4m $8.9m ($3m, $7.6m)