UPDATED JULY 6: Terminator: Genisys usurped two of Universal's heavy hitters to rule the international and global box office. Jurassic World became the fifth biggest global release in history and Disney crossed $3bn worldwide in a new speed record for the studio.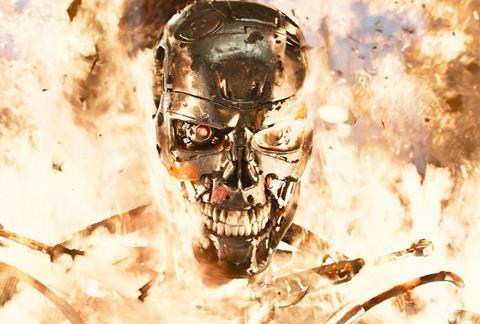 PARAMOUNT PICTURES INTERNATIONAL
UPDATE: The confirmed $73.3m weekend haul from 46 territories for Paramount and Skydance Productions' Terminator: Genisys scored the biggest debut for the franchise and Arnold Schwarzenegger in 22 markets.
The sci-fi action reboot grossed $118.2m worldwide over the weekend including the number three $44.2m five-day North American debut. After two weekends the international running total has reached $85.5m and global stands at $129.6m.
Terminator: Genisys secured top berth in Russia on $12.5m in 1,774 sites for the biggest franchise, Schwarzenegger and July debut as well as the fifth biggest launch of all time.
Number one debuts in South Korea on $11.2m in 1,275 and in Mexico on $6.1m from 1,307 scored new franchise and Schwarzenegger records.
In a trio of number two results the sci-fi action arrived in the UK on $5.8m from 979, France on $4m from 815 and Brazil on $3.9m from 1,012. The last territory set new records for the franchise and Schwarzenegger.
Genisys delivered $4.4m at number one in Australia in 484 and $1.5m at number two in the Philippines from 147 for new franchise and Schwarzenegger marks. The same two records fell in Venezuela where $2.4m in 75 delivered Paramount's second biggest opening weekend.
There were also number one debuts and new franchise and Schwarzenegger records in Taiwan on $2.1m from 144, Malaysia on $2.3m from 131, India on $3m from 600, Hong Kong on $2m from 48 and Ukraine on $692,000 from 125.
Second weekend business saw running totals climb in Singapore by $655,000 from 28 to $2.3m, Colombia by $736,000 from 165 for $2.9m and Peru by $690,000 from 85 for $1.9m where the film still ranks number one.
The film's global Imax haul stands at $10.2m, while 233 screens have generated $4.7m in the international market. This week it opens in Germany, Japan, Italy and Spain. Studios sources said the budget was $155m.
UNIVERSAL PICTURES INTERNATIONAL
UPDATE: Minions has taken the baton from Jurassic World to rank as the studio's top international weekend performer as a confirmed $56.2m from 26 territories boosted the running total after two sessions to $125.1m.
The family film from Universal Pictures and Illumination Entertainment scored the biggest opening day of all time for an animated film in Germany, Spain, Argentina and Colombia and the biggest opening weekend for an animation in Argentina, Czech Republic, Indonesia, Lithuania and Slovakia.
Minions opened top in all 15 new territories led by Germany on $9.8m from 732 for a 70% gain on the launch of Despicable Me 2, Spain on $6m from 626 for a 100% gain, Argentina on $5.4m from 170 for a 200% gain and Colombia on $3.3m from 178 for a 100% gain.
The film stayed top in Brazil and the UK where it has climbed to $16.9m and $32.7m, respectively. In Australia, where it ranks number two, the tally after 18 days has reached $15.2m.
Minions arrives day-and-date with North America this week in 25 territories including France, Mexico and Russia.
Jurassic World grossed $43.3m from 66 territories to propel the international total to $828.4m. The $1.385bn global haul squeezed past the $1.383bn of Avengers: Age Of Ultron into fifth place in the worldwide box office pantheon. Fast & Furious 7 ranks fourth on $1.511bn.
The smash adventure reboot ranks second in China in its fourth and final week of release and added $9.3m for $221.8m and overtook Avatar to become the fourth biggest release in China. Fast & Furious 7 ranks number one on $391m.
Japan will be the final release on August 5.
Ted 2 grossed $9.5m in 31 territories for an early $36.8m running total. Australia was the top holdover at number five five on $1.7m for $6.3m after 11 days. The film ranks third in Germany on $1.2m for $5.7m after 11. There are 33 territories to open over the next couple of months including the UK, Poland, Turkey and Peru this week. Unfriended stands at $15.1m and Pitch Perfect 2 $96.5m.
ASIA UPDATE
Sony's local-language co-production A Monk Comes Down The Mountain (The Monk) from Chen Kaige earned $28m to propel the tally to $34.5m. Hollywood Adventures added $5.8m for a $44m running total and SPL 2 grossed $4m for $85m.
WALT DISNEY STUDIOS MOTION PICTURES INTERNATIONAL
UPDATE: Disney crossed $3bn at the global box office on June 30 – a new speed record for the studio, which has reached the milestone for the last six years now and nine times overall.
Inside Out grossed a confirmed $21.1m from 43 territories to reach an early $120m. The animation stands at $366.2m worldwide and has amassed an estimated $24.9m in Mexico and $17.2m in Russia, where it ranks as the second biggest Disney/Pixar release behind Frozen.
Australia has generated $13m, France $12.2m, Argentina $9.4m, Brazil $8.1m and Colombia $5.5m.
Avengers: Age Of Ultron delivered a confirmed $6.6m in Japan for the biggest debut for a Marvel Universe release and has already exceeded the entire run in Japan of both Thor 2 and Captain America 2. The international running total stands at $926m.
FRANCE UPDATE
UGC's comedy Les Profs 2 debuted on $6.8m.
WARNER BROS PICTURES INTERNATIONAL
UPDATE: Magic Mike XXL grossed a confirmed $5.9m from 15 markets led by $2.4m in the UK from 907 screens for what the distributor said was roughly on a par with the launch of Magic Mike three years ago.
Russia delivered $737,000 from 930, Holland $857,000 from 117 including previews and Scandinavia $964,000 from 285. Taiwan generated $351,000 from 89 over five days. The film arrives this week in Australia, France and Spain.
San Andreas stands at $306.3m and has generated $101.2m in China, $29.8m in Mexico, $17.4m in the UK, $12.9m in South Korea and $10.8m in Russia. Brazil has produced $10.6m, Taiwan $8.8m, France $8.5m and Colombia and Argentina $6.9m apiece.
Mad Max Fury Road has grossed $213.8m.
FOX INTERNATIONAL
UPDATE: Spy grossed $3.3m from 60 markets to reach $112.7m. The UK returned $465,555 from 438 for $14.3m after five sessions and France $683,422 from 347 for $3.8m after three. Australia stands at $10.9m after seven and Russia $8.2m after five.
Poltergeist added $2.6m from 35 for $44.8m and arrived in third place in Italy on $296,000 from 460. Mexico has delivered $3.5m after two weekends.
Fox International Productions' Dragon Ball Z: Resurrection F grossed $1.6m from 12 for $48.8m and added $467,000 from 46 in Venezuela for $1.9m after two. Guddu Rangeela opened in Indian on $972,000 from 936 and stands at an early $1m overall.
Far From The Madding Crowd stands at $13.9m.
SONY PICTURES RELEASING INTERNATIONAL
Insidious: Chapter 3 grossed $2.7m from 51 territories to climb to $42.1m and opened in Germany on $720,000 including previews from 333 screens. The horror arrives this week in France and South Korea.