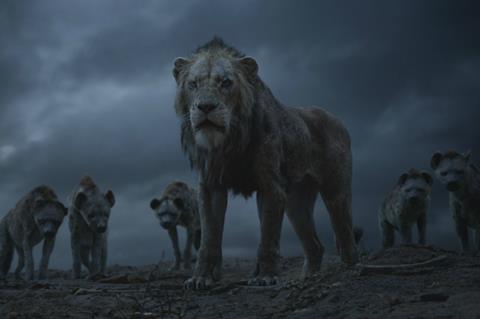 JULY 22 UPDATE: Disney's The Lion King delivered new industry record opening weekends for a July and PG release as it opened to a confirmed $191.8m and reduced the deficit between 2019 box office and the year-ago equivalent from 9% to 7%.
This was the ninth highest debut in history and the highest for a Walt Disney Studios release outside of Marvel and Lucasfilm, surpassing Incredibles 2 on $182.7m and Beauty And The Beast on $174.7m.
The film grossed $467m worldwide and stands at $543.6m after 10 days. However claims by executives that The Lion King becomes the fifth Disney live-action reimagining to gross more than $100m in its debut need to be taken with a large pinch of salt: Jon Favreau's film is photoreal animation, not live-action.
The Lion King opened in 4,725 theatres and left the competition in its wake. Sony's heavy-hitter Spider-Man: Far From Home in second place added $21m in its third session to reach an excellent $319.9m and is closing in on $1bn at the global box office.
A24's horror Midsommar ranks ninth on $22.5m after three weekends. Last weekend's disappointing debutants, the alligator horror Crawl from Paramount and buddy action comedy Stuber from Disney-Fox, fell 49.2% and 50% in their second sessions to rank fourth on $23.9m, and sixth on $16.2m, respectively.
Powered by Disney, overall box office for the top 12 releases in North America gained 117.3% against last weekend.