UPDATED MAY 5: Marvel Studios' superhero tentpole erupted into 4,276 theatres across North America at the weekend to deliver the second biggest three-day debut in history.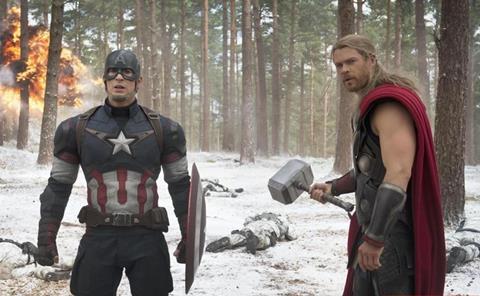 Only predecessor The Avengers in May 2012 has gone higher on $207.4m and the sequel's early running total after 12 days has already raced to $631m with China to come on May 12.
Disney-Marvel Studios releases now hold the top three spots in the all-time opening weekend pantheon with Iron Man 3 slotting in at number three on $174.1m from May 2013.
Six of the top 10 are superhero adaptations, while two hail from The Hunger Games franchise, the Harry Potter finale ranks fourth and current release Furious 7 rounds out the top 10.
Overall box office for the top 12 reached $225.2m and climbed 162.2% against last weekend and gained 35.8% on the same session in 2014 when Columbia Pictures opened The Amazing Spider-Man at number one on $91.6m.
Ultron features the returning core cast of Robert Downey Jr, Mark Ruffalo, Chris Evans, Chris Hemsworth, Scarlett Johansson, Jeremy Renner, Sam Jackson and Paul Bettany alongside James Spader, Elizabeth Olsen and Aaron Johnson.
Don Cheadle, Anthony Mackie, Hayley Atwell, Idris Elba and Stellan Skarsgard also star. Imax accounted for $18m from 364 screens, contributing to an Imax-best $25.2m worldwide for a single film in a weekend.
Universal's dethroned behemoth Furious 7 dropped to number two and reached $331.1m in its fifth session.
Lakeshore's romance Age Of Adaline with Blake Lively held firm at number three and stands at $23.4m via Lionsgate after two weekends.
Alex Garland's feature directorial debut sci-fi drama Ex Machina fell one place to number seven on $2.3m for $10.9m after four weekends through A24.
Buena Vista's Cinderella climbed six places to number six in its eighth session and stands at $194m.
Fox Searchlight opened Far From The Madding Crowd starring Carey Mulligan and Matthias Schoenaerts on $164,985 from 10 venues.
Kristen Wiig starrer Welcome To Me got a strong platform release via Alchemy on $38,000 from two venues.
Clouds Of Sils Maria starring Juliette Binoche and Kristen Stewart expanded by 94 venues into 163 and added $261,667 for $870,950 after four weekends.
This week's wide releases are Warner Bros female comedy Hot Pursuit starring Sofia Vergara and Reese Witherspoon and Jack Black comedy The D Train via IFC.
Confirmed top 10 North America May 1-3 2015
Film (Dist) / Conf wkd gross / Conf total to date
1 (-) Avengers: Age of Ultron (Buena Vista-Marvel Studios) Walt Disney Studios Motion Pictures International $191.3m –
2 (1) Furious 7 (Universal) Universal Pictures International $6.6m $331.1m
3 (3) The Age Of Adaline (Lionsgate) Lakeshore International, Sierra/Affinity $6.2m $23.4m
4 (2) Paul Blart: Mall Cop 2 (Columbia) Sony Pictures Releasing International $5.9m $51.5m
5 (4) Home (Fox-DreamWorks Animation) Fox International $3.5m $158.3m
6 (12) Cinderella (Buena Vista) Walt Disney Studios Motion Pictures International $2.7m $194m
7 (6) Ex Machina (A24) Universal Pictures International $2.3m $10.9m
8 (5) Unfriended (Universal) Universal Pictures International $2.2m $28.8m
9 (7) The Longest Ride (Fox) Fox International $1.7m $33.2m
10 (10) Woman In Gold (TWC) TWC International $1.6m $24.5m