MARCH 14 UPDATE: Disney's latest animation juggernaut held on to pole position in its second session as a confirmed $51.3m boosted the running total to $143.9m.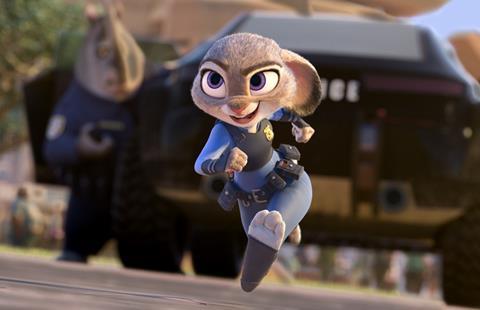 Combined with the $294.9m international running total, Zootopia has stormed to $438.9m worldwide. The Imax haul amounted to $3.1m from 376 screens in North America.
Paramount thriller 10 Cloverfield Lane starring John Goodman and Mary Elizabeth Winstead and John Gallagher Jr arrived in second place on a decent $24.7m from 3,391 theatres.
Two films continued to perform below expectations in their second weekends. London Has Fallen ranks fourth on $39m via Focus Features, while Paramount's Whiskey Tango Foxtrot starring Tina Fey ranks fifth on $14.6m.
Columbia Pictures comedy The Brothers Grimsby with Sacha Baron Cohen and Mark Strong debuted poorly at number eight on $3.26m from 2,235 sites.
Two other new arrivals failed to impress. Lionsgate's rom-com The Perfect Match starring Kali Hawk, Terrence Jenkins and Paula Patton and opened at number six on $4.3m from 925, while Focus Features' historical drama The Young Messiah debuted in seventh place on $3.29m from 1,761.
Drone thriller Eye In The Sky starring Helen Mirren opened well on $113,803 from five venues via Bleecker Street for a $22,761 average. The distributor picked up the film in Toronto last September.
Overall the top 12 generated $121.9m, dropping 17% against last weekend and marginally ahead of the comparable session in 2015.
This week's wide releases are: Lionsgate-Summit's The Divergent Series: Allegiant via Lionsgate starring and Shailene Woodley and Theo James; and faith-based drama Miracles From Heaven via TriStar starring Jennifer Garner, Queen Latifah and Martin Henderson.
Confirmed top 10 North America January February March 11-13, 2016
Film (Dist) / Conf wkd gross / Conf total to date
1 (1) Zootopia (Buena Vista) Walt Disney Studios Motion Pictures International $51.3m $143.9m
2 (-) 10 Cloverfield Lane (Paramount) Paramount Pictures International $24.7m –
3 (3) Deadpool (Fox) Fox International $10.9m $328.2m
4 (2) London Has Fallen (Focus Features) Nu Image $10.8m $39m
5 (4) Whiskey Tango Foxtrot (Paramount) Paramount Pictures International $4.7m $14.6m
6 (-) The Perfect Match (Lionsgate) $4.3m –
7 (-) The Young Messiah (Focus Features) $3.29m –
8 (-) The Brothers Grimsby (Sony) Sony Pictures Releasing International $3.26m –
9 (5) Gods Of Egypt (Lionsgate-Summit) Lionsgate International $2.5m $27.4m
10 (6) Risen (Columbia Pictures (Sony Pictures Releasing International) $2.3m $32.4m