Festival counters that probe is "retaliation" for screening of controversial film; "I'm consulting with lawyers," exec tells Screen.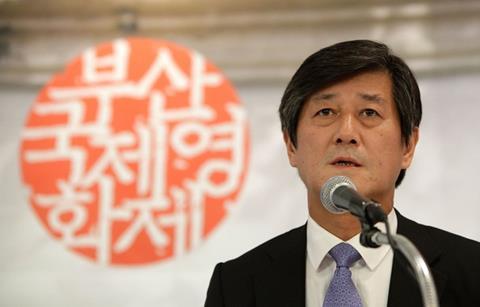 Busan Metropolitan City has filed a complaint with prosecutors against Busan International Film Festival (BIFF) co-director Lee Yong-kwan for alleged mismanagement of sponsorship fees.
BIFF stated today that this was "clear retaliation" against the festival for refusing the mayor's request to cancel screenings last year forThe Truth Shall Not Sink With Sewol, a documentary critical of the national government's handling of the Sewol ferry disaster.
The festival also made it known that Busan City has pushed for Lee to resign and that the local government directly and indirectly made it known that they would not press charges if Lee stepped down.
Once Lee refused to step down on grounds that the audit in question was a targeted, retaliatory one, the City filed charges on December 11.
Speaking with Screendaily, Lee said: "We just have to get past this. I don't think there was anything that was particularly a problem, but the City does and they took it to legal prosecution, so I have to deal with it the best I can."
Asked about his contract ending in February and how he thought this legal action would effect his contract renewal, he added: "There is time to solve this problem. Although we don't yet know in what kind of way the prosecutors will investigate. I'm consulting with lawyers."
Filmmakers and concerned citizens are organizing a protest in support of the festival to be held tomorrow in front of Busan City Hall.
A number of local and international industry have come out in support of Lee in the past year. The executive said of the support: "I always feel thankful to them and sorry that this sort of preposterous problem keeps arising. But there's nothing else to be done but to deal with it."
BIFF's current co-director, Kang Soo-youn, was put in place as a compromise after the City first asked Lee to step down and he refused.
Festival counters allegations
BIFF's statement today covered the following points:
- The Board of Audit and Inspection (BAI) pointed out that in the process of paying out brokerage fees for sponsorship money, the festival did not have enough documentation. The festival says it is following "socially accepted, typical practices" in paying out such commissions. Busan City has been overseeing this practice and others every year and BIFF has been following their guidelines.
- In such cases, the BAI generally gives organizations a request for corrective measures or disciplinary action, whereas in BIFF's case "alone" they requested charges be brought to prosecutors and Busan City went through with it, making it clear their intention to get rid of Lee.
- If there were any administrative mistakes made, it should suffice to fix them and prevent further repetition of such, and the festival is willing to do so.
The festival went on to say they hoped prosecutors would be fair in their investigation.