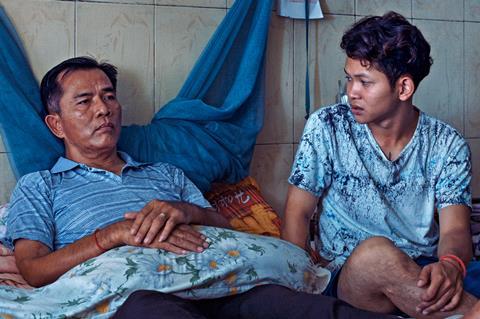 Brooklyn-based arthouse distributor KimStim has acquired North American rights for Cambodian Oscar submission White Building from French sales company Les Film du Losange.
Set against the backdrop of Phnom Penh's real-life iconic White Building housing project and its demolition in 2017, is the fiction feature debut of Cambodian filmmaker Kavich Neang.
It stars Piseth Chhun as a young dancer and resident, whose life is turned upside-down by the destruction of his long-time home and its community.
The film world premiered in the Venice Film Festival's Horizons section, where Piseth Chhun won best actor. It has since screened at BFI London, Hong Kong, and Busan.
"We were really taken with Neang's vibrant, beautiful and heartfelt portrait of the rapidly changing face of Phnom Penh. His sensitivity and tenderness towards his characters facing displacement is very moving and also important," notes KimStim co-president Ian Stimler.
The film is produced by Cambodia's Anti-Archive, with Davy Chou as producer. Chinese filmmaker Jia Zhangke's Xstream Pictures came on board, as did French company Apsara films, led by co-delegate producer Marine Arrighi de Casanova.
KimStim is planning a North American theatrical release in 2022. Its 2021 releases have included Maria Sødahl's Hope, Kiyoshi Kurosawa's To The Ends of The Earth, Bruno Dumont's Joan of Arc and Suzanne Lindon's debut feature Spring Blossom.