EXCLUSIVE: Titles on Beta's slate include films from Agnieszka Holland and Stefan Ruzowitzky.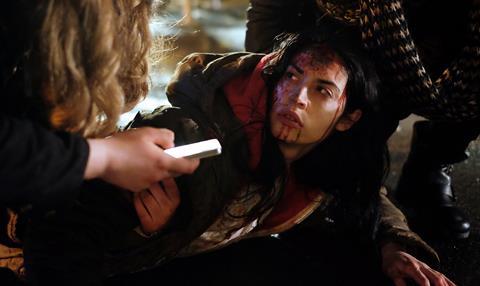 German sales powerhouse Beta Cinema has revealed details of its new Cannes titles, among them the latest features from Oscar winner Stefan Ruzowitzky, Oscer nominee Agnieszka Holland, Un Certain Regard-winner Andreas Dresen and Golden Bear-winner Calin Peter Netzer.
Beta's auteur-driven slate is headed by hard-boiled genre film Hell (working title, pictured), from Ruzowitzky, who won his Oscar for The Counterfeiters. Hell is a taut thriller about a young woman witnessing a brutal murder by a fanatic Islamist serial killer.
Shot by DoP Benedict Neuenfels (The Counterfeiters, Anonyma – A Woman In Berlin) and starring Violetta Schurawkow and Tobias Moretti, Hell is produced by genre experts Allegro Film and Amazing Film Company and is currently in post-production. First footage will be revealed at the Beta Cinema Cannes office.
Beta is also introducing buyers to Agnieszka Holland's Game Count, a thriller based on Olga Tokarczuk's bestseller Drive Your Plow Over The Bones Of The Dead about mysterious killings without clear traces in a small mountain village on the Czech-Polish border.
The film, which recently finished shooting, is produced by TOR Film Production in co-production with Heimatfilm, Nutprodukce, Chimney, Agora Odra-Film, National Audiovisual Institute, HBO Europe, ZDF, Arte, Czech Television and Film i Väst. DOP is Jolanta Dylewska.
Holland is a revered figure in Polish and European cinema, Oscar nominated for In Darkness and also recently the director of HBO's Burning Bush, her US credits include episodes of The Wire, Treme, The Killing and House Of Cards,
Beta is also handling sales on Andreas Dresen's Timm Thaler, based on the children's story by James Kruess. and produced by Constantin Film's Oliver Berben, The film follows the story of a boy who closes sells his laughter for the promise to win every bet in the world.
Timm Thaler is set to be released just before Christmas in Germany.
In addition, Romanian director Calin Peter Netzer (the Golden Bear winner in 2013 for Child's Pose) is back with Ana, Mon Amour, an intimate drama also on Beta's Cannes slate.
The film, which is in production, is made by Parada Film in co-production with augenschein Filmproduktion and France's Sophie Dulac productions.