Other winners include Son Of Saul, The Assassin, Chronic, The Lobster, The Measure Of A Man, Carol and Mon Roi.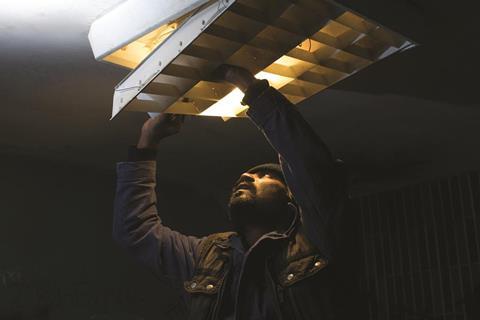 Scroll down for full list of winners
Jacques Audiard's Dheepan has won the Palme d'Or at the 68th Cannes Film Festival (May 13-24).
Critics had predicted that Todd Haynes' Carol or Hou Hsiao-hsien's The Assassin would take the top prize, while momentum appeared to shift to Laszlo Nemes' Son Of Saul when it picked up the Fipresci prize. Even the bookies favoured a different title, pegging Yorgos Lanthimos' The Lobster for the prestigious honour.
But while they each left the Lumiere Theatre with one prize apiece, it was Dheepan that claimed the top honour.
The drama centres on a Tamil freedom fighter (Antonythasan Jesuthasan, one of three non-professional Tamil leads) who, near the end of the Sri Lankan Civil War, flees to Europe with a makeshift family hoping to claim asylum, only to face further violence in the Parisian slums.
The film proved fourth-time-lucky for Audiard, who won best screenplay at Cannes in 1996 with A Self-Made Hero, picked up the Grand Prix for A Prophet in 2009 and walked away empty-handed in 2012 with Rust And Bone.
Speaking later at the winners press conference, Audiard said of Dheepan: "I wanted to reflect on the situation that is happening in the Mediterranean. Those people that sell roses to us in a café, where they come from, what is their background, their motivations - that is what spurred me on."
Celluloid Dreams secured a raft of sales for Dheepan during Cannes' Marche du Film and StudioCanal has UK rights while Sundance Selects is distributing in the US. Wild Bunch is co-selling the title.
Grand Prix
Hungarian Holocaust drama Son of Saul was considered a frontrunner after being named best film in the main Competition by Fipresci, the International Federation of Film Critics.
But Laszlo Nemes directorial debut - the only debut in this year's Competition line-up - instead won the Grand Prix.
The film is about a Hungarian prisoner assigned to work in one of the crematoria of Auschwitz who, finding a body he believes is his son, sets out to find a rabbi to bury him.
Nemes was given a respectful silence at the press conference and said: "Europe is still haunted by the deportation during the Second World War. In Hungary, 450,000 people were deported, 100,000 of those being children. And many went straight to gas chambers. It still haunts us. It is not just a piece of history.
"I wanted to approach this issue in a different way," he added. "It was important to talk to this generation. There are less and less survivors who can talk to us."
The film was the only one in Competition to be shot on 35mm. Nemes added: "We believe in film - so to shoot on film was important to us."
Sold by Films Distribution, Son Of Saul was acquired during the festival by Curzon Artificial Eye for the UK, Sony Pictures Classics for the US and several other territories.
It ranked joint second on Screen's Cannes Jury Grid. Nemes previously worked as assistant director to Bela Tarr on The Man From London (2007).
Best Director
As joint leader with Carol on Screen's Cannes Jury Grid, The Assassin was also a hot favourite for the Palme d'Or.
Instead, Taiwanese master Hou Hsiao-Hsien picked up Best Director for his film about an assassin in ninth-century China who is ordered to kill the cousin she loves.
Hou has been a Cannes Competition regular since 1993's The Puppetmaster, although The Assassin (Nie Yinniang) is his first feature since Flight Of The Red Balloon, which opened Un Certain Regard in 2007.
Hou's comeback marks a surprising move into the wuxia action genre, since he is considered a specialist in hyper-contemplative realism.
Despite missing out on the Palme d'Or, Hou was in good humour later and said: "If you believe in what you are doing, it doesn't matter if you get a prize or not.
"My films have been screened around the world - one doesn't think about receiving or not receiving an award. But if the jury dares not to give a prize to this film, we'll come and throw stones. That's just a joke."
Sold by Wild Bunch, the film was snapped up for North America by Well Go USA.
Jury Prize
Going into the festival, anticipation was high for Yorgos Lanthimos' The Lobster, which picked up the Jury Prize.
After winning Cannes' Un Certain Regard prize in 2009 with his dark drama Dogtooth, Greek film-maker Lanthimos returned with a love story set in the near future where single people are arrested, transferred to The Hotel and obliged to find a matching mate in 45 days. The starry cast includes Colin Farrell, Rachel Weisz, Ben Whishaw and Léa Seydoux.
Lanthimos later said: "Any film that tries to do something differently is wonderful - winning an award is such a peculiar thing.
"They (the jury) have precise and specific thoughts about cinema. You can't define who wins awards and why. I respect all of the people on the jury - it's a great honour to be here, and to have won this award."
Sold by Protagonist Pictures, the film was snapped up by Alchemy for the US having previously been picked up by Sony Pictures Worldwide Acquisitions for key territories. It will be jointly handled by Picturehouse Entertainment and Element Distribution in the UK.
Actors
In the performance categories, Best Actor went to Vincent Lindon for his portrayal of a man facing a moral crisis when he takes a job as a supermarket security man in Stéphane Brizé's The Measure Of A Man.
After getting emotional on stage, Lindon told the assembled press that the Coens spoke to him. "They said to me when we left the stage - 'You can't imagine how glad we are for you.'
"It's very gratifying to be respected by filmmakers who know so much about films."
He added: "It was wonderful to play this part… I didn't know I could be so expressive. I didn't know I could embody such pain. I tried to express so much hope in this character. One with dignity that could stand tall."
The Best Actress award was shared between Rooney Mara for her performance in Todd Haynes' Carol opposite Cate Blanchett, and Emmanuelle Bercot for her role in Maiwenn's critically-panned Mon Roi. Bercot also directed Standing Tall, which opened this year's Festival.
Mara was unable to attend so Haynes accepted the award on her behalf. "When you show your film for the first time, you have no idea how your film will look - the reaction is more than we ever expected," he told press.
"The night we shared at the premiere we will never forget. I wish Rooney could have been here to accept this award. And I know Cate will receive a lot of recognition for this role in upcoming months."
Bercot, meanwhile, offered some insight into her approach in Mon Roi. "Maiwenn didn't want us to have written dialogue," she said of her director. "So we worked in dialogue that was instinctive. She directed us while we were acting - in real-time.
"She described how a scene would unfold while we were acting - but she also didn't expect us to repeat what she said."
Best Screenplay
Winning Best Screenplay at Cannes for Chronic has brought things full circle for Mexican writer-director Michel Franco.
Franco was at Cannes in 2012 with After Lucia, which picked up the Un Certain Regard prize that year. British actor Tim Roth was president of the Un Certain Regard jury that awarded the film and was so impressed by Franco that he sought him out and agreed to star in Chronic, in which he plays a nurse working with terminally ill patients.
Franco said: "I wrote the script after a personal story - my grandma was sick for many years, and then died. The nurse caught my attention. How her life might be and how she changed my family's life - I decided to write about it. "
Roth said: "There are few awards this jury can hand out so the fact that we got one is amazing… The subject matter is difficult, and it has been a difficult journey to get to Cannes. So thank you Cannes."
On working with Franco, Roth added: "We had so much fun we are going to work on another film."
Wild Bunch is handling sales of the film.
The Competition jury was presided over by US filmmakers Joel and Ethan Coen. The jury comprised: Spanish actress Rossy de Palma; French actress Sophie Marceau; British actress Sienna Miller; Malian composer Rokia Traoré; Mexian filmmaker Guillermo del Toro; Canadian filmmaker Xavier Dolan; and US actor Jake Gyllenhaal.
Cannes 68
Palme d'Or
Dheepan, Jacques Audiard
Grand Prix
Son Of Saul, Laszlo Nemes
Best Director
Hou Hsiao-hsien, The Assassin
Jury Prize
The Lobster, Yorgos Lanthimos
Best Actor
Vincent Lindon, The Measure Of A Man
Best Actress
Rooney Mara, Carol
Emmanuelle Bercot, Mon Roi
Best Screenplay
Chronic, Michel Franco
Caméra d'Or
Land and Shade, César Augusto Acevdeo
Short Film Palme d'Or
Waves 98, Ely Dagher