Australian filmmaker will award the Palme d'or at the close of the Festival.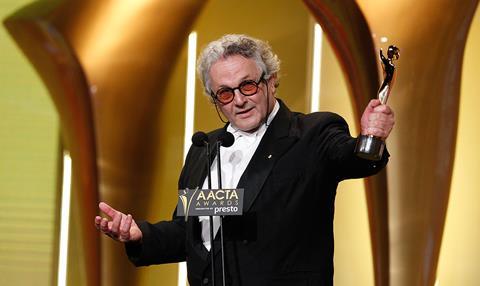 Mad Mad director George Miller is to preside over the jury of the 69th Cannes Film Festival (May 11-22), capping a successful 12 months for the Australian filmmaker.
It was in Cannes last May that Mad Max: Fury Road received its world premiere. The action reboot, starring Tom Hardy and Charlize Theron, was shown Out of Competition to critical acclaim and has been picking up awards ever since. It is nominated for 10 Oscars, including Best Picture, and seven Baftas.
Miller said: "What an unmitigated delight. To be there in the middle of this storied festival at the unveiling of cinematic treasures from all over the planet. To spend time in passionate discourse with fellow members of the jury. Such an honor. I'll be there with bells on."
As well as heading the jury, it will be down to the 70-year-old director to award the prestigious Palme d'or at the close of the Festival.
In recent years, Cannes jury presidents have included Tim Burton, Robert De Niro, Nanni Moretti, Steven Spielberg, Jane Campion and, last year, the Coen brothers.
From Mad Max to Babe
Miller broke onto the film-making scene in 1979 with Mad Max, starring Mel Gibson, which proved a worldwide smash hit and gave rise to sequels Mad Max 2: the Road Warrior in 1981, Mad Max Beyond Thunderdome in 1985.
In 1983, along with John Landis, Steven Spielberg and Joe Dante, he directed the final segment of Twilight Zone: The Movie. Then came The Witches of 'Eastwick in 1987 and Oscar-nominated drama Lorenzo's Oil in 1992, starring Susan Sarandon and Nick Nolte.
In 1995, he adapted and produced family film Babe, directed by Chris Noonan, which picked up seven Oscar nominations including Best Film.
In 2006, his first animated film Happy Feet was a major box office success and won the Oscar for Best Animated Feature. Happy Feet Two followed in 2011.
In 2015, the Road Warrior returned in Mad Max: Fury Road. It recently scooped nine prizes at the Critics Choice Awards, including Best Director.