Director Na Hong Jin talks to Screen about his Out of Competition Cannes 2016 title.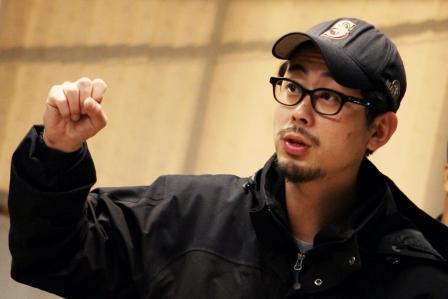 Korean director Na Hong Jin (The Yellow Sea, The Chaser) is back in Cannes for the third time with the supernatural mystery thriller The Wailing – a.k.a. Goksung or Gokseong.
Released locally on May 12, the film has clocked up over 2.3 million admissions and $16.23m at the box office as of May 16. Starring Kwak Do-won as a police officer trying to save his daughter from homicidal possession, the film has its international premiere Out of Competition in Cannes today (May 18).
How did you come up with this film?
I started out with the image of someone far away, indistinguishable, gradually coming towards you and the moment they are right in front of your face, when you can see their pores, smell them and feel their sweat, and what it must feel like when evil attacks and invades you. I started with that image – of evil approaching from far away to show its identity to you.
After The Yellow Sea, I lost two people very close to me and went to their funerals. It was the first time for me to lose anyone so dear to me. I was very sad and cried a lot. And that's what got me thinking about being in the position of a victim and focusing on that.
Were you interested in the occult?
Not especially, but I was curious about this different culture, and wanted to explore its presence in daily life. Of course there are the old films everybody knows, made by great directors like The Exorcist, The Shining, The Omen and Rosemary's Baby that I like and was no doubt influenced by. They're like textbooks. But there hasn't been much that's been impressive since then. It seemed mostly like repetition. It's necessary to go back to them, but I wanted to put an Eastern and Korean twist on the canon.
Is that why you set the film in Gokseong?
It's my grandmother's hometown and I spent a lot of time there when I was young. Goksung is a place where Catholics who were persecuted in the North smuggled down to, and finally were martyred there.
I used to go around to play, holding onto priests' hands and my grandmother and her friends were all involved in the church.
Every morning my grandfather would take me on his motorcycle to the neighborhood butcher shop like you see in the film, where he'd have makgeolli [traditional unrefined rice wine] with kimchi and hold a meeting with his friends about what was going on in the neighborhood and its safety for about 30 minutes to an hour.
When I was young, the real elders wore gat [Korean traditional hats made of bamboo and horsehair] and durumagi [traditional Korean outer coats]. They didn't take public transportation – they walked. We couldn't even look them in the eye. That was tradition.
It was very important to me where the film took place. It talks about the supernatural, of feeling it around you, and the truth. Goksung is a place where you can get a feeling of religion and the supernatural. I thought it would be a good place to talk about Korean ghosts and gods, showing the changes in time and weather.
I told the director of photography to concentrate most on the space. The film doesn't provide a lot of character background, but because we keep showing you the setting over two hours, you can feel the impact of, for instance, Chun Woo-hee's character, even though she's not on screen that long.
You cast Kwak Do-won in his first leading role, and put Hwang Jung-min, a top star, in as a supporting character. How did that work out?
I only worked with Kwak Do-won on The Yellow Sea for four, maybe six days and most of the time he was a corpse on the ground. His talking performance only took up two to three days. But I had a very good feeling about him and kept watching his performances in other roles. He's a very dynamic actor.
With Hwang, I noticed when he plays a supporting role, his impact is excellent. When he's in the lead, he suppresses that and shares it with the other supporting cast. It was a hard decision to make but casting him in the supporting role here did prove more appropriate.
I ask all my actors to put away their emotions when they're in front of the camera, and act with precise rationality. That's the way to appeal to audiences.
What was it like working with Fox?
They put a lot of trust in me. They didn't come to Korea a lot. They set up a production company in Korea, but there was only one employee who was handling other films besides mine. So it took a long time to make this film. We're used to speed in Korea – to fast decisions, but in the beginning of the scriptwriting stage, everything was different – not just the time zones but our working methods. They don't work weekends. They take a lot of vacations – long and often. So if we got a quick reply, it took two weeks.
A slow reply could take up to several months because they needed to have their internal meetings and get lawyers' advice, too. So in the beginning, progress was slow. But they were always careful about getting the communication right, and after a while our differences grew to be fewer.