Dir/scr. Amos Gitai. Israel / France / Italy, 2009. 93 min.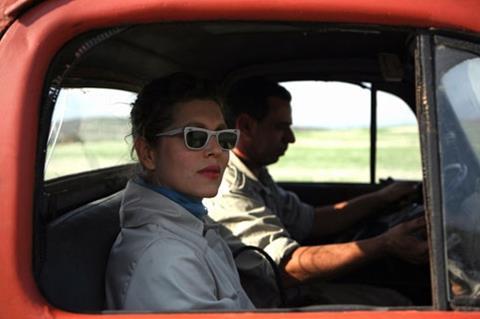 This very personal artistic collage, although it does tackle a variety of historical and political subjects, is best described as an ode to the memory of Amos Gitai's mother, who died five years ago. Neither documentary nor fiction, but an impressionistic portrait of the author, it could accompany programmes featuring his work but is difficult to envisage as a commercial item in its own right.
Taking the shape of a diary in which the entries relate the director's various concerns, Carmel starts with Gitai pacing on the beach, Mahler's music in the background, and moves into his take on the Roman invasion and destruction of the Second Temple in the 1st Century AD as an omen for today's Israel.
Next up is a satirical portrait of an Israeli military unit chaotically preparing to move into action, which in turn leads to a highly personal episode, in which Gitai, the worried father of a young soldier, waits for him in the middle of nowhere.
Carmel, in which it is often difficult to distinguish between fact and fiction, is built on a combination between general observations on the state of Israel and personal memories from the past, with big chunks of it dedicated to his mother, Efratia. While she was a formidable woman for those who knew her, what is most evident here is her son's enormous affection for her.
This section is partly documented with old footage, partly staged with actress Keren Mor playing the director's mother, and partly through her letters to the family, read either by Mor or in a more direct fashion by Gitai's wife, Rivka.
The Jeanne Moreau narration on the soundtrack is taken from Gitai's opening show for this year's Avignon Theatre Festival, The War of the Sons of Light against the Show of Darkness.
Mostly suitable for Gitai faithful who will identify not only some of his favorite themes but also members of his family, this could almost qualify as a home movie to share with friends and relatives. Naturally, some of the fun will be lost on those who are not in the know. Gitai fans will most probably take this as a sophisticated, at times multi-layered and thoughtful summation of a well-known director's roots, life and political opinions. His detractors will probably doubt the sincerity of the enterprise.
To sign up for Screen's weekly Reviews Newsletter with all the week's new releases, internationalopenings and full festival reviews delivered free to your mailbox every Friday, please click HERE
Production companies
AGAV Films
Inter Europe
Global Media
Hamon Afakot
Producers
Amos Gitai
Michael Tapuach
Laurent Truchot
Augustus Pelliccia
International Sales
AGAV Films
+33 6 8626 8131
Cinematography
Stefano Falivene
Production design
Miguel Markin
Editing
Isabelle Ingold
Main cast
Amitai Ashkenazi
Amos Lavie
Ben Eidel
Ben Gitai
Efratia Gitai
Jeanne Moreau