The Chinese animation studio has launched a Los Angeles-based production office and brought on industry veterans and longtime producing partners Sandra Rabins and Penney Finkelman Cox.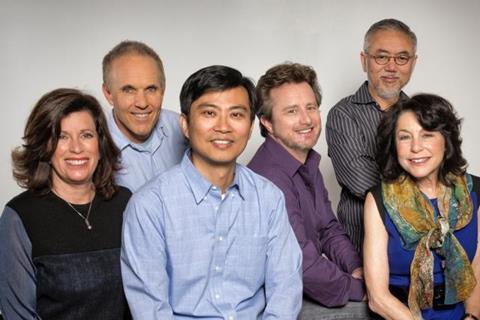 Original Force president and founder Harley Zhao (pictured, centre) told guests at a party in Downtown Los Angeles on Wednesday evening that the company has started production on three features and will aim produce at least one CG film approximately every 18 months.
Rabins (pictured at far left) and Finkelman Cox (pictured at far right) will serve as co-presidents of Original Force Animation and are partners with Zhao on the newly launched animated feature division.
The new arrivals launched Sony Pictures Animation in 2002 and have deep ties to DreamWorks Animation. They have overseen such titles as Shrek, Cloudy With A Chance Of Meatballs and Open Season and have begun to assemble their team for the inaugural slate.
Meanwhile Peter Adee, formerly president of marketing at Universal Pictures and MGM, is consulting on the launch of the first Original Force titles.
First titles
The roster features Duck Duck Goose (pictured), which Home producer Christopher Jenkins (pictured third from right) directs from a screenplay he co-wrote with Rob Muir about a goose that takes two ducklings under his wing as they embark on a perilous journey back to their flocks. Finkelman Cox and Rabins produce with Viola Chen.
Original Force is in pre-production on OldZilla, about an aging monster on a final hell-raising mission to ruin the opening of a megastore.
Bob Bendetson (pictured second from left), an occasional producer and writer on The Simpsons, co-wrote with Art Everett and will direct.
In the early stages of production is QQ Speed, a co-production with Tencent Holding Limited based on the popular Chinese online video game.
Rugrats Go Wild director John Eng (pictured second from right) develops and will direct.
Ratchet & Clank is a co-production with CNHK, Rainmaker and Blockade that Cinema Management Group has been pre-selling internationally at a number of markets.
The development slate includes Where The Mountain Meets The Moon and Riding Giants.
"New creative home"
Original Force launched in 1999 and has created CGI animation for global television and gaming clients such as Disney, DreamWorks Television, Sony, Tencent, Activision and Electronic Arts.
"There is no one more talented, skilled or experienced in leading animated films than Sandy and Penney," said Zhao.
"Each has had an extraordinary career and their track record co-running DreamWorks Animation and Sony Pictures Animation has given them a completely unique perspective on building a contemporary animation studio from the ground up.
"They have a love and respect for great stories and relatable characters that is incredibly infectious and which drives our production philosophy. Original Force is proud to have two partners with such impeccable credentials guiding our film team."
Finkelman Cox said: "When Harley approached us with this unique opportunity, he told us he wanted to build a new creative home for the world's best storytellers, writers, directors, animators, digital artists and designers.
"Original Force Animation is a true global operation with a world perspective and whether you are an established filmmaker or an emerging artist with a distinctive and fresh new voice, we want you to think of our company as a new destination where your best work can be nurtured and flourish."
Rabins added: "Harley has organically grown his business from a small start-up of four to a thriving world-class animation services and production facility that is operating in five cities with a talented team that is nearly 1,000 strong.
"After years of successfully working as a studio-for-hire, Original Force is creating its own content and global IP and we believe we have an inaugural slate that will resonate all over the world."
Rabins and Finkelman Cox separately run Patchwork Productions, which served as executive producer on Snakes On A Plane and is developing projects with studios in Japan and China.