Christopher Smith, whose film Black Death was released in the UK in June, talks to writer-director Dan Gitsham about meeting the demands of the collaborative film-making process while staying true to an original vision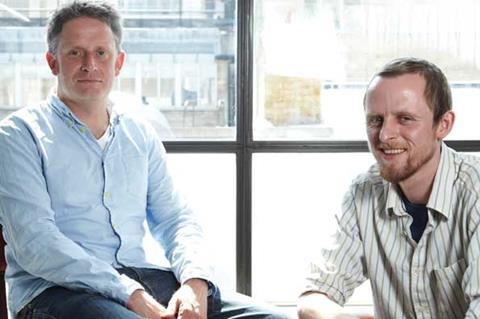 DAN GITSHAM You made a couple of shorts four or five years before Creep. Who were these funded by and how did they influence your next steps as a film-maker?
CHRISTOPHER SMITH The first short, The 10,000th Day, was my graduation film at Bristol University. It was a Paul Auster numerology story about a girl obsessed by numbers. It was very much a student film with madcap ideas but it did well in competitions and got me an introduction to the local broadcaster and rather cynically I came up with a storyline which I believed would work for them and their funding policy. So I wrote a Ken Loach/Alan Clarke drama set in one of the poorer estates in Bristol. Then I started writing features and one brought me to the attention of the UK Film Council (UKFC). It was around the time that Neil Marshall had released Dog Soldiers and there was a large appetite for horror films and I'm a huge horror fan so I wrote Creep. You know, when you go to the UKFC or any film company, it's not as though they want to say no; they want to find reasons to justify their investing in your film. The UKFC liked the script and my shorts - the first was quite stylishly done in terms of camera angles and shots, the second was acting led - so those ticked the boxes and allayed some of the fears that come with working with first-time directors.
GITSHAM What was it like, that first day you walked on to the set of your first feature? How did you prepare? I've made a few shorts and often wonder if working on a feature will be a massive difference.
SMITH In terms of the on-set machine, it felt bigger and more professional. The crew is much more professional and everyone's earning a living out of it so they're all looking at the director thinking, " Who's this guy?" But the big difference was all the things that go on behind the production that you don't see. If you have two days to film a scene, you think, "Great, I've got more time." But if that scene actually needs four days to shoot and if you don't have the experience or the balls to say you need more time, you can end up trying to please. The important thing is not trying to please but staying true to what you want to do. When you're making a feature, you don't always know what mistakes you're making - and you're always going to make mistakes. For example, not ordering enough equipment in pre-production, not having the right lenses, having the scene in the wrong place. That's what makes the job so brilliant, a film is a permanently changing thing. The worst thing for a first-timer is that you always have that period of wondering whether your film will really go ahead.
GITSHAM How did Creep impact your career and getting more work?
SMITH Creep did well - it took almost $3m (£2m) at the box office and did even better on DVD - so it meant that I suddenly appeared on one of the invisible lists of directors who can do horror films. Those lists are not just about how good you are but about how you deliver the film. The difficult thing about making your first feature is that you're suddenly in among all the big boys - you're going to get reviewed, some good and some bad, and that really hits you. It was quite hard to deal with all that but you become more thick-skinned as you go on.
GITSHAM I heard you say once that if you're in a tight spot on a scene, you try to think of how they solved a problem like it in another film.
SMITH Well, there's always the example of Raiders Of The Lost Ark when the guy with the sword comes after Indiana Jones. That was a huge storyboarded fight and because there was no time, Steve Spielberg said, "Just get out your gun and shoot him." And it makes it a lot more successful. You always have to find what the scene's really about. On Triangle, we had a tough completion guarantor and we were filming a scene in a water tank. I was told we only had three hours. And when I looked at the scene again, I knew it was just about what the lead character is feeling while all the chaos is going on around her. So I changed it on the spot and it ended up being a shot just on her face and it ended up being one of my favourite shots of the film. That's the hard thing about film-making: you're free when you're writing the script, you're not free when you're shooting it.
One thing I've learnt is that if you get the great privilege and pleasure of being able to shoot your film in order - and we shot Black Deathin order - always shoot the beginning and the end in the first couple of weeks. Don't shoot the end and beginning in order. Because you and the crew are not up to speed on day one and you're always rushing at the end. You can then change the end if you need it. Never leave the end of the film to the end of the shoot.
GITSHAM How do you work with actors and prepare them for the roles?
SMITH When I was growing up, actors to me were like football stars, so I love actors and I think that vibe rubs off on them. I love what they do and I love how they do it. As soon as you start making features, you find you're working with actors who have a lot of experience of the way the camera works. Their version of your lines is probably better in terms of the rhythms. You have to learn that the actors will spend a lot of time looking at the words, often practising in front of mirrors, so they've probably given a line more thought than you have. So I let them do their thing first and then do little tweaks.
GITSHAM How important do you feel subtext is to a film? I always want the audience to get involved with what they see, the surface story, and if they get anything else out of it that's great but it's not a requirement.
SMITH Subtext is everything to a film. If you just take horror films, they've all got important subtexts. Invasion Of The Body Snatchers and the McCarthy witchhunts, Witchfinder General and witchhunts, even the slasher movies of the early 1970s - to me they're all Vietnam films because they all deal with images shot in a very real way which is like the images coming back from Vietnam in newsreels. All the things that horror touches on make the films scarier. For me, religious fundamentalism is the scary thing about our times and I wanted to put some of that into Black Death. There's something else about horror, in particular about the ones from the early 1970s, you feel as though the film-makers aren't responsible people, you feel as though you're engaged in a process that's not following a mandate of acceptability.
GITSHAM John Landis said when you watch a Hitchcock film, you feel as though you're in the hands of a master and when you watch The Texas Chain Saw Massacre, you feel as though you're in the hands of a madman.
SMITH He's right. You feel safer with Hitchcock because you know he's not going to do anything really sleazy. Imagine making The Exorcist now. You probably wouldn't even write the scene with the crucifix, not because you'd think they would cut it, but because you'd censor it. We're much more conservative about how we make stories. I think those crazy scenes stay in our minds, that's what makes us remember a film, more so than a film that's very slick but very boring because it hasn't got madness in it. The cult films all have odd little moments in them that make no sense.
GITSHAM A lot of directors worry about being pigeonholed in a genre and tosome your films are all horror. But Severance is more of a black comedy, Triangle is Memento meets The Shining, and Black Death is a historical adventure with horror elements. Was it deliberate to try different approaches to show you can make diverse types of films and stretch your skills?
SMITHSeverance was definitely a response to Creep. If there were negative responses to Creep, they were that it was clichéd. I'd written Triangle after that and it was about playing with conventions and I'd never had got that financed on the back of just Creep without doing a film that showed I could do that, so Severance was about turning convention on its head. I'm now working with [producer] Sarah Radclyffe on a series of spy books called Cherub which is very naughty humour for kids. I'm writing a film noir which has a very dark murder. And I'm thinking about doing a werewolf movie. I want to do a lot of other stuff but I do love making horror movies. I just wish they got more credit.
GITSHAM Going through the development process on my most recent short was a completely new experience for me. Having someone else read it and criticise it.
SMITH Get used to it. It's hard getting notes and it never gets easier. At script stage, it's frustrating. But wait till you get them after you've made the film, when they say, 'Why is this scene so slow?' Sometimes there's obviously something wrong if everyone's saying it. On Severance, I had a note about the scene with the foot in the fridge. Now, there was no way I was getting rid of that. But maybe it meant the scene came at the wrong moment or that the scene before it was off. You've got to understand that making movies is a collaborative process. Unless you're Stanley Kubrick.