Nigerian filmmaker CJ Obasi made Nigeria's first zombie film, Ojuju, which is set in a Lagos slum.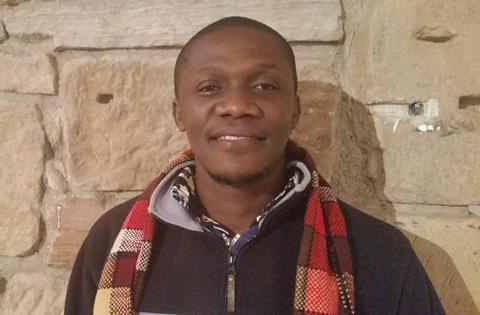 Because he's not following the typical Nollywood model, he's also having to re-think how his film gets to an audience.
"I've realized that in Nigeria there is a thing called Nollywood, and then you have 'New Nollywood,' that's new guys making a certain kind of film that's outside of the norm, outside of the usual drama structures that people are used to for Nollywood," said Obasi, speaking yesterday at the Nigerian-Scottish Film Odyssey Industry Day at Africa In Motion in Glasgow (backed by The British Council and Film Hub Scotland).
"If you are doing another kind of film, you have to figure out for yourself how you are going to get it to your audience… We're still experimenting as new filmmakers. The traditional model doesn't always work for us anymore."
For Ojuju, that's been an initial run at domestic and international film festivals, to be followed by an online, DVD and TV launch to come.
Traditional Nollywood films go into theatrical release in the country's limited cinemas or straight to the DVD market. But cinemas weren't interested in programming Ojuju when he first approached them. Even after the film had international success at festivals – and a glowing review in The Hollywood Reporter – Nigerian cinemas would only offer Ojuju undesirable mid-day slots. Even for bigger Nollywood productions, competing at the cinema with Hollywood blockbusters is tough.
"Nigerian films having mainstream distribution compete with 'Iron Man 5. 'It's just not working. On top of that, the timeslots given to Nigerian films are just horrible," he added. "It's almost seems like the structure does not even encourage the patronization of Nigerian films. That platform didn't work for me so I didn't go with that."
The DVD market, which sees films often sold in markets and on streets, is plagued with piracy as well. "Ultimately you would want to get to that market because it gets your film in people's houses. But initially [as the first platform of release] it's not very smart business wise."
Getting the film made was a struggle – Nigeria has no official government support for cinema, so Obasi says the film was basically "no budget" paid for himself. "When I wrote the script and tried to get funding, nobody was interested…People thought I was crazy, nobody wanted to put money into a Nigerian zombie film…I grew up on George A. Romero, but I wasn't trying to make a Hollywood story. I was trying to make a subversive, localized story set in a slum in Lagos, it has a reality to it." One of the messages behind the story was the fact that nearly 70 million people don't have access to clean drinking water in Nigeria.
A teaser for the film was put online, but there was no money for a PR or marketing campaign. "The audience found the film…it was just word of mouth," he says.
Ojuju had its world premiere at the influential Africa International Film Festival (AFRIFF) in Calabar, Nigeria in November 2014. "It won best Nigerian film, it started touring the world. It had a life of its own," he says.
It has now played at festivals including Fantasia in Montreal, Eko International Film Festival in Lagos, the Pan African Film Festival in Los Angeles, New Voices in Black Cinema New York, Shockproof Film Festival in Prague, and Nollywood Week in Paris.
With festivals embracing new kinds of stories, Obasi now hopes that the local "gatekeepers" in Nigeria start to change their attitude towards new types of films. "They think the audience isn't ready for the kinds of films I want to make."
"From my experience, I think the Nigerian audience is ripe for something different, I think they are crying out for something different. But they are not getting it, not necessarily because it isn't there, but because there isn't distribution for those."
Obasi's new film, crime thriller O-Town, will have its premiere at AFRIFF (Nov 8-15) in Lagos (where he is also part of the British Council's Script Junction workshop). And he's got another script in the works, based on the true story of a ritual killing in a small town in 1996.
Despite the challenges of infrastructure and funding, he's positive. "It's an exciting time to be a Nigerian filmmaker," he said, adding that the old rules are being broken down.
"I don't discriminate, I watch all kinds of films," he said. "I could be high art and like an Ingmar Bergman film, at the same time I could like a romantic comedy with Jennifer Aniston. It's important for us to be uninhibited. We don't allow rules to govern what we like and what we do not like."
Ojuju will screen at Africa In Motion in Glasgow on Saturday (appropriately, Halloween) and Sunday.