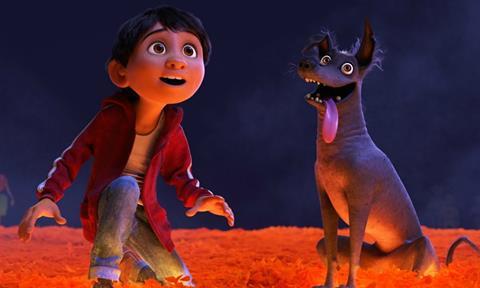 NOVEMBER 27 UPDATE: Pixar's latest instalment Coco dominated the North American box office on $72.9m over five days and $50.8m after three for the fourth biggest three-day Thanksgiving holiday bow, while SPC's debutant Call Me By Your Name delivered the biggest per-theatre average of 2017 so far in a superb number 13 launch.
Coco, themed around Mexico's Day of the Dead celebration and already the highest-grossing release of all time in that market, opened through Buena Vista in 3,987 theatres. Gael Garcia Bernal, Benjamin Bratt and Anthony Gonzalez are among the voice cast.
Luca Guadagnino's coming-of-age drama Call Me By Your Name stars Timothée Chalamet, Armie Hammer and Michael Stuhlbarg and opened at number 14 on $412,932 in four venues for a year-to-date record $103,233 per-site average.
Last weekend's champion Justice League fell 56.2% and one place to number two via Warner Bros on $41.1m for $171.9m after two weekends, while the Julia Roberts family drama Wonder slipped a mere 17.7% and ranks third after two weekends on $69.8m through Lionsgate.
Sony's Denzel Washington drama Roman J. Israel Esq. registered the largest gain of the weekend, climbing 28 places to number nine after a 7,073% gain. The drama about an idealistic defence attorney expanded from four to 1,669 venues and added $4.45m for $6.2m in the second session.
Joe Wright's Winston Churchill drama Darkest Hour starring Oscar frontrunner Gary Oldman debuted well at number 21 through Focus Features on $175,006 from four venues for a $43,752 average. Bleecker Street opened The Man Who Invented Christmas, a drama about the origins of Charles Dickens' A Christmas Carol starring Dan Stevens and Christopher Plummer, at number 12 on $1.3m in 626 sites, rising to $1.8m over five days.
Hungarian Oscar submission 1945 added $26,823 from five theatres for $114,568 via Menemsha.
Box office for the top 12 generated $206m and gained 6.2% against last weekend and gained 15.6% on Thanksgiving weekend 2016.
Confirmed top 10 North America November 24-26, 2017
Film (Dist) / Conf wkd gross / Conf total to date
1 (-) Coco (Buena Vista) Walt Disney Studios Motion Pictures International $50.8m $72.9m
2 (1) Justice League (Warner Bros) Warner Bros Pictures International $41.1m $171.9m
3 (2) Wonder (Lionsgate) Lionsgate International $22.7m $69.8m
4 (3) Thor: Rangarok (Buena Vista) Walt Disney Studios Motion Pictures International $16.9m $277.7m
5 (4) Daddy's Home 2 (Paramount) Paramount Pictures International $13.22m $72.6m
6 (5) Murder On The Orient Express (Fox) Fox International $13.2m $74.4m
7 (6) The Star (Sony) Sony Pictures Releasing International $6.9m $22.1m
8 (7) A Bad Moms Christmas (STX) STXinternational $4.9m $59.6m
9 (37) Roman J. Israel, Esq (Sony) Sony Pictures Releasing International $4.45m $6.2m
10 (9) Three Billboards Outside Ebbing, Missouri (Fox Searchlight) Fox International $4.4m $7.6m