Dir/scr. Sophie Barthes, US, 2009, 101 minutes.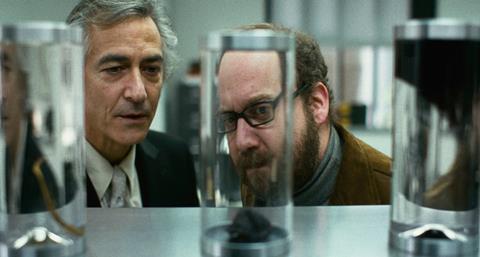 Cold Souls is an ambitious comedy in which a frustrated actor - Paul Giamatti, using his own name - disposes of his annoying soul to ease his problems, and then decides he wants it back. Echoing Woody Allen (who helped inspire this) and Charlie Kaufman, whose work it echoes, Cold Souls is likely to draw attention on the festival circuit before easing into a US and possibly European art-house run. As a tortured actor, Giamatti is the film's best asset in the marketplace, and French-born, US-trained Sophie Barthes certainly establishes herself as a name to watch with this ambitious debut.
"Cold Souls is admirably challenging, with light absurdist touches"
The film's title plays on Dead Souls, the 1842 Russian novel by Nikolai Gogol in which a man buys the souls of dead Russian serfs to enhance his position in society. In Barthes' script, Paul Giamatti's soul is getting in the way of his acting in Uncle Vanya and is an annoyance to him. An article in The New Yorker leads him to a 'Soul Storage' run by Dr Flintstein (David Straithairn), where, in a Faustian twist, he unloads his burdensome soul as if it were a carbuncle. But without a soul, he can't act convincingly, so he acquires the soul of a Russian poet, which helps his acting but has the opposite effect on his marriage to Claire (Emily Watson). His malaise deepens.
Eventually Giamatti crosses paths with Nina (Dina Korzun), a radiantly melancholic 'soul mule' in a Russian mob-run transport racket. The film pivots into thriller-mode, and the two leave for St. Petersburg to find Giamatti's original soul as they form a tender bond.
Playing an actor who is anguished and befuddled by the emotional demands of Uncle Vanya and seeks a quick fix for a complex conundrum, Paul Giamatti fits neatly into the role that Barthes wrote for him David Strathairn, as the office-grey Dr Flintstein, is unnervingly calm and professional, given the nature of the product that his Soul Storage company handles. He's a 21st century version of Gogol's officious 19th century bureaucrats and Woody Allen's bland futurist technocrats.
As Nina the soul mule, Dina Korzun, shot in pastel tones, is as quiet and understated as Giammati is expansive.
Cold Souls is admirably challenging, with light absurdist touches - a soul extraction machine that looks right out of Allen's mock-futurist Sleeper (1973), and a moment of sheer dread when Giamatti sees his extracted soul, which turns out to be a chick pea, and Dr Flintstein suggests shipping it to New Jersey.
Sophie Barthes handles the emotional depths of Cold Souls less convincingly than she wields its charming humour, but the film's literary wit still makes it a promising debut.
Production Companies
Two Lane Pictures
Winner Arts Limited
Journeyman Pictures/Touchy Feely Films
Memento Films Productions
Arte France Cinema
Domestic sales
Cinetic Media
+ 1-212-204-7979
International sales
E1 Films International
+1-416- 967-7078
Producers
Dan Carey
Elizabeth Giamatti
Paul Mezey
Andrij Parekh
Jeremy Kip Walker
Cinematographer
Andrij Parekh
Editor
Andrew Mondshein, ACE
Music
Dickon Hinchcliffe
Production Designer
Elizabeth Mickle
Main Cast
Paul Giamatti
David Strathairn
Nina Kozun
Katheryn Winnick
Lauren Ambrose
Emily Watson