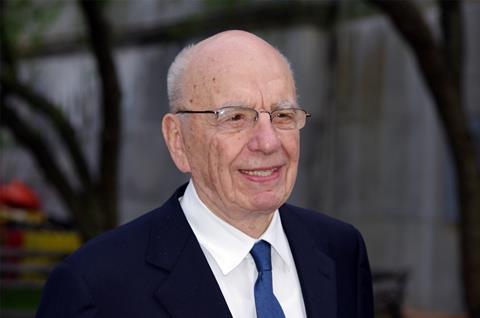 Telecom giant Comcast has submitted a $65bn all-cash bid for the entertainment assets of 21st Century Fox that equates to a 19% premium over Disney's earlier $52.4bn all-stock offer.
Comcast returned to the table after it appeared to drop out of the running for a slice of Rupert Murdoch's (pictured) empire last December shortly before Fox accepted Disney's offer.
The conglomerate is understood to have initially offered around $60bn, however Murdoch and his lieutenants are understood to have harboured anti-trust concerns given Comcast's ownership of NBCUniversal.
Comcast said in late May it was preparing a higher offer than Disney and acted with renewed vigour following yesterday's ruling by a US federal judge approving AT&T's proposed $85.4bn takeover of Time Warner.
Comcast CEO Brian Roberts noted in a letter to Murdoch and his sons Lachlan and James that Comcast's offer was 19% higher than that of Disney. If accepted, the latest bid would give Comcast control of streaming service Hulu and place it in direct competition with Disney for ownership of Sky in the UK.
In the letter, Roberts said, "In light of yesterday's decision in the AT&T/Time Warner case, the limited time prior to your shareholders' meeting, and our strong continued interest, we are pleased to present a new, all-cash proposal that fully addresses the Board's stated concerns with our prior proposal.
"Our new proposal offers 21CF shareholders $35.00 per share in cash and 100% of the shares of New Fox after giving effect to its proposed spinoff, providing superior and more certain value as compared to Disney's all-stock offer. Our proposal represents a premium of approximately 19% to the value of Disney's offer as of noon today. We are highly confident in our ability to finance the transaction, and our offer includes no financing-related conditions.
"We are also highly confident that our proposed transaction will obtain all necessary regulatory approvals in a timely manner and that our transaction is as or more likely to receive regulatory approval than the Disney transaction. Accordingly, we are offering the same regulatory commitments as the ones 21CF has already obtained from Disney, including the same $2.5 billion reverse termination fee agreed to by Disney. To further evidence our commitment, we also are offering to reimburse the $1.525 billion break-up fee to be paid by you to Disney, for a total cost to Comcast of $4.025 billion, in the highly unlikely scenario that our transaction does not close because we fail to obtain all necessary regulatory approvals."
Fox issued a statement saying it would review the latest offer. The company's deal with Disney obliges it to share any superior offer with Disney chairman and CEO Bob Iger and his team. A meeting between the Fox leadership and investors to discuss the Disney deal remains scheduled for July 10.