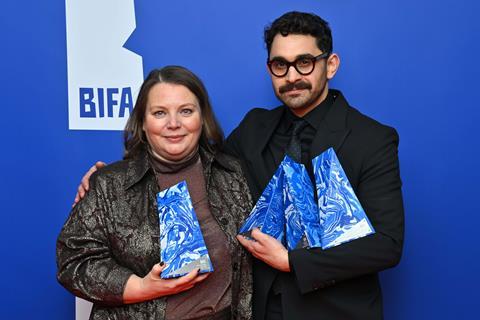 In February, the Covid-delayed 2020 British Independent Film Awards (Bifas) saw Sarah Gavron's Rocks triumph in five categories, including best British independent film, a timely boost for the title ahead of the Bafta Film Awards.
Three weeks later, the Bafta nominations were announced, including what was seen at the time as a "surprise" haul of seven nods for Rocks, including key categories such as director, original screenplay, leading actress and supporting actress.
Other Bifa winners that went on to earn Bafta nominations earlier this year included His House's Wunmi Mosaku for leading actress — a performance that certainly deserved Bafta recognition, but hadn't necessarily been high in tipsters' lists of likely nominees.
This history lesson is relevant to the current awards conversation after the 2021 Bifas earlier this month. A number of films had gone into the ceremony on virtual level pegging: Joanna Hogg's The Souvenir: Part II, Clio Barnard's Ali & Ava, Aleem Khan's After Love and Sean Durkin's The Nest all scored nominations in the key categories of director, screenplay and British independent film, and we can add Belfast and Boiling Point, which each boasted 11 nominations, to the elite group of top contenders.
That equality was quickly demolished in the actual ceremony, which delivered a big sweep to After Love, with six wins including actress (for Joanna Scanlan), director, screenplay and British independent film. Writer/director Khan was challenged to find fresh words to say in his many acceptance speeches.
The question now for Khan and other stakeholders in the film is: will history repeat, and is After Love now set to follow Rocks by achieving major success at the Bafta nominations?
With few category exceptions, the Bafta Film Awards are international in scope, so director Khan will now be competing with the likes of Jane Campion and Paul Thomas Anderson, and a nomination is far from certain. At least the outstanding British film award should prove a happy hunting ground.
For the last seven years, the winner of the best British independent film Bifa has gone on to earn a Bafta nomination in the category: Rocks, For Sama, The Favourite, God's Own Country, American Honey, Ex Machina and Pride. However, only The Favourite among those went on to win the award.
After Love should also flourish in the outstanding British debut category — although that is a fully juried and highly diligent process that doesn't rely on awards such as the Bifas to bring films to attention. It would certainly be a surprise if the jury opts not to nominate Khan, but juries are unpredictable, as was witnessed in 2018 when Francis Lee was not nominated for British debut with God's Own Country.
Pay close attention
Several of the biggest beneficiaries of Bifa wins might be found in the acting categories. After Love's Scanlan always seemed the likely Bifa winner for best actress, and her eventual triumph should encourage Bafta voters to pay extra attention to her performance — and rightly so. Bafta's jury-augmented process should help land Scanlan on the actress longlist, and then a second jury will pick four of the six actress nominees (the other two spots being the two highest-placed candidates in first-round voting).
Ali & Ava's Adeel Akhtar and After Love's Talid Ariss likewise receive a Bafta boost by winning Bifa's male acting categories but keep an eye out for Boiling Point's Vinette Robinson, who won the supporting actress Bifa for her role as sous-chef Carly. The Bradford-born actress has clocked up nearly 50 screen credits over the past couple of decades, including in Mike Leigh's Vera Drake.
Despite the ensemble nature of the cast behind lead actor Stephen Graham in Boiling Point, Robinson makes a powerful impact every time the camera lands on her. As with Scanlan, Bafta's revised, jury-augmented process should help place Robinson on a level playing field alongside her major rivals in that category, who will all benefit from powerful support from streamers and legacy studios. In other words: the best supporting actress Bafta race just got a lot more interesting.
Screen International's awards/box office editor based in London.