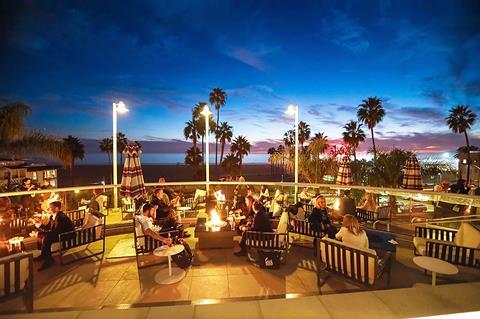 Paramount's stand-out $10m deal for Book Club on Friday (Nov 3) offered a rare glimmer of hope at an AFM that has elicited more than the usual amount of gripes and prompted some to speculate on the future viability of the market.
Bloom and Endeavor Content's grey dollar comedy has been a big draw for those buyers who can afford it, along with Bloom's The Front Runner starring Hugh Jackman as former US presidential candidate Gary Hart – admittedly a title with limited global appeal given the subject matter. Rocket Science's Nicole Kidman crime thriller Destroyer, STXinternational's The Red Sea Diving Resort, and Sierra/Affinity's Julia Roberts vehicle Ben Is Back have also generated buzz.
AFM management said the number of registered exhibitors is up 18% from last year, to 445 exhibitors, yet some insiders have observed leaner buyer contingents and fewer delegates from China. Attendees frequently remarked on the lack of foot traffic in the corridors of the Loews and while this has been a common refrain in recent years, the absence of A-list stars turning up to buyer presentations this year and the relentless torrent of sex scandal revelations that has blighted the industry have added to the sense of angst.
To spice things up even further, several big players are in a state of flux. TWC International had been slowing down for a year or so even before the Harvey Weinstein scandal sent the company into freefall and legal knots. The company was absent from the eighth floor of the Loews for the first time in years and its only vestige has been sales chief Ennis Hensley taking meetings at the Viceroy.
Global Road – Donald Tang's venture that comprises IM Global and Open Road (where Tom Ortenberg is headed for the exit door) and is essentially being groomed by Rob Friedman to become Summit 2.0 – has nothing new to offer at this market while it finds its bearings. Ousted IM Global founder Stuart Ford has stayed away from the market, busy raising capital for a venture he plans to launch in the new year. Attendees have also been curious to learn about Helen Lee Kim's next moves after Lionsgate swallowed up Good Universe.
Several observers continued to bemoan how the scarcity at markets of genuine star power caused by the draw of TV allows increasingly powerful agencies to drive up asking prices to unrealistic levels, which not only reinforces the economic divide in the independent space but hits distributors hard if releases flop at the box office. A splashy market buy has tremendous PR potential, but that promise disintegrates months later if the film fails to perform in the treacherous US distribution arena. Valerian and, more recently, Suburbicon – the big sale of Berlin 2016 – are cases in point.
Markets allow the industry to engage through much-needed face time and inevitably business gets done. But what many describe as a costly market – some LA-based sellers noted how it is more expensive to set up an office at the Loews than it is to attend Cannes – has become an ordeal for smaller buyers faced with the deep-pocketed competition of Netflix and Amazon, as well as third-party sales agents bereft of must-have content.
In these days of the 12-month sales cycle, insiders say markets desperately need to stand out. Yet despite the relative lack of top-tier buzz titles, the business remains viable for those who operate within realistic budgets, adapt to the circumstances and pivot away from the prospect of extinction. For the mid-tier sellers, that means taking control of finance and production like those who inhabit the upper echelons.
"We need to add value to the business," Epic Pictures co-founder Shaked Berenson said as the company celebrates its tenth anniversary at the market. "Make yourself valuable. You finance and take risk and produce. You put in the hard work. Companies that don't take risk and take their 10% [sellers fee] acting in the middle are being phased out."
"We should evolve to something more akin to the May screenings in TV," one senior independent industry executive said. "All the key foreign buyers show up in LA for a week and the bigger players entertain them on home turf. Otherwise it's a 365-day-a-year business with one big market in Cannes and festivals to sell finished movies in Toronto and Berlin. The future."
A high-level US buyer who also wished to remain anonymous noted the lack of commercial fare besides the aforementioned titles. "The AFM used to be the DVD market's market but now that that sector had died, it's slow," the buyer said, adding that Cannes and Berlin remained attractive because the festival element triggered genuine enthusiasm about proven commodities.