Britain's ambassador to the US, Sir Kim Darroch, explains how this year's Oscar nominations prove transatlantic creative ties are as strong as ever.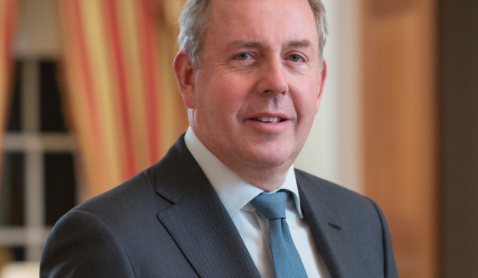 Film buffs will know that the UK and Hollywood have been linked since the earliest days of filmmaking. At the first Academy Awards in 1929, British actor and comedian Charlie Chaplin was presented with a special award – in part to keep him from winning every major category that year!
The transatlantic connection in film remains impressive today, as seen with this year's Oscar nominees.
In front of the camera, three first-timers in the acting categories – Andrew Garfield (Hacksaw Ridge), Dev Patel (Lion), and Naomie Harris (Moonlight) – herald a new generation of breakout British stars.
And behind the camera, world-class British talent has again been recognised in nearly every filmmaking field. For the last decade, Brits in production design, costume design and sound mixing have been nominated every year. In visual effects, three remarkable British brothers – Neil, Paul and Chris Corbould – have been nominated a total of 10 times. This year, for the first time, Neil and Paul go head-to-head for their work on Rogue One and Doctor Strange, respectively.
As for film production, 2016 was another extraordinary year for the UK. British film production contributed $2bn in spending to the British economy, up 13% from the previous year.
Those with a keen eye can see how the UK has made its mark, right up on the big screen: Canary Wharf tube station transformed into an imperial base for Rogue One; Liverpool became a wizarding 1920s New York for Fantastic Beasts And Where To Find Them; and London set the scene for a reality-bending Doctor Strange in his battle to protect Earth from interdimensional invaders.
Filmmaking is a collaborative art, and nowhere is this more evident than the ties between talented Brits and Americans. The quintessentially Hollywood musical La La Land was underpinned by a British-US team of sound engineers. British and US effects artists together created the astonishing animals and scenery in The Jungle Book. British and US editors turned Arrival, a film about linguistics and one of my personal favourites for the year, into a tense and emotional drama about humanity.
While audiences enjoy 2016's creations in theatres around the world, US and British filmmakers are putting the finishing touches on 2017's blockbusters. Star Wars: The Last Jedi is sure to be a hit. So will the Steven Spielberg-directed Ready Player One, and Christopher Nolan's Dunkirk. In each case – and in countless others – the imagination and skill of the best film professionals from our two countries will together drive innovation and higher levels of technical quality. From virtual reality to CGI actors, the UK-US partnership in film is already looking to the future.
In both of our countries, creativity and innovation are among our greatest strengths. So our embassy and consulates, especially our consulate in Los Angeles, will continue to build new transatlantic connections to lay the groundwork for future world-class projects.
And the British Film Commission and the Department For International Trade will help filmmakers take those next-generation projects from the drawing board to the silver screen.
To find out more click here.
Congratulations to all of the nominees of the 89th Academy Awards!