Costa-Gavras' Eden Is West was awarded the top prize by the jury of the Los Angeles Film Critics Association at the 13th Annual City Of Lights, City Of Angels, (COLCOA).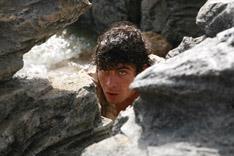 The critics gave a special prize to Remi Bezancon's The First Day Of The Rest Of Your Life and actress Yolande Moreau received a special mention for her Cesar Award winning work in Seraphine as well as her turn in the comedy caper Louise-Michel.

"There were so many wonderful films at this year's COLCOA – comedies, romances, family chronicles, psychological dramas, espionage thrillers, a crime-epic, a superb documentary, and several moving journeys of self-liberation, whether through the making of art, the mastering of chess or simply swimming for your life," jury president F X Feeney said.

"How could we choose? Fortunately, in Eden Is West Costa-Gavras succeeds in nearly all of these forms of excellence. He holds up a truthful mirror to the cruel divided nature of our world, of its brutal displacements and callous barriers – yet he never loses his sense of humour."

Philippe Lioret's Welcome won the COLCOA Audience Award, while Baby Love, written and directed by Vincent Garenq, garnered both the COLCOA First Feature and Audience special prize awards.

Audience special mention went to Cesar winner Jean-Francois Richet's gangster epic Mesrine: A Film In Two Parts. Senator Distribution will release in mid-August.

Gautier About's Make Yourself At Home won the COLCOA Short Film Award while Nous from Olivier Hems, was awarded the COLCOA Short Film Special Prize. Jeremy Clapin's Skhizein won a special animation prize, while Cecile Ducrocq and Raphael Goldman won a special mention for their acting in A Private Lesson.

COLCOA is funded by the Franco-American Cultural Fund to premiere French films over the course of a week in Los Angeles.