Dir: Glenn Ficarra and John Requa. US. 2011. 118mins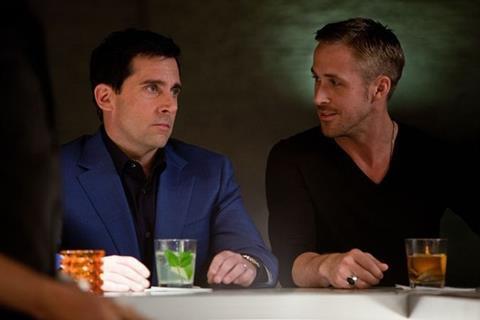 The complexities of the heart are given a dispiritingly glib once-over in Crazy, Stupid, Love., a comedy-drama that pretends to be a honest look at relationships when it's really just burdened with simplistic characters and sitcom set-ups. Star and producer Steve Carell provides a dependable soulfulness to this story about a troubled marriage, but the increasingly preposterous plotting makes the film hard to love or even like.
Dan Fogelman's screenplay strains to be ambitious.
Opening domestically July 29, this Warner Bros. release should appeal to two generations of date-night crowds, with Carell and Julianne Moore courting older viewers while Ryan Gosling and Emma Stone bring in younger moviegoers. Nonetheless, a lack of a sexy hook means that Crazy, Stupid, Love. will need good word-of-mouth to ensure that it's a sturdy, long-haul performer amidst a summer marketplace brimming with bigger, louder offerings.
Crazy, Stupid, Love. focuses on Cal (Carell) and Emily (Julianne Moore), a couple who have been married since they were teenagers. But one night, Emily announces she wants a divorce, admitting that she's slept with someone else. Heartbroken, Cal turns to Jacob (Gosling), a handsome lady-killer he meets in a bar who instructs the suddenly single Cal on the art of wooing women.
Directed by Glenn Ficarra and John Requa, who previously helmed I Love You Phillip Morris and were the writers on Bad Santa, Crazy, Stupid, Love. represents a more polished, less anarchic side of the filmmaking team's personality. Unfortunately, Dan Fogelman's screenplay strains to be ambitious, not just looking at Cal and Emily's marital worries but also creating a roundelay of romantic problems for the peripheral characters in which just about everyone we meet is either pining for someone or is in an unsatisfying relationship.
The exception is Gosling's heartthrob character, but despite the actor's cocky confidence Jacob never transcends clichés. While Jacob's over-the-top talent at seducing women is meant to be a comic exaggeration, his willingness to take Cal under his wing is never satisfactorily explained, nor is his later evolution into a more loving guy fully believable. Gosling has a lot of fun playing a walking self-parody, but the filmmakers haven't figured out the character beyond being a device to pull the nerdy Cal out of his shell.
While Carell and Moore have some brief, affecting scenes together, they don't share sufficient screen time to get a sense of what split them apart. Though Emily's wish for a divorce is meant to be a devastating blow, she isn't enough of a character for us to understand her motivations, while Cal's dogged attempts to be more like Jacob push the film into jokey sex farce that doesn't have much zing. Fogelman gives Cal some heartfelt monologues to deliver to Emily, but their relationship remains a frustrating mystery.
These problems would be less gnawing if the film wasn't so impressed with its own irreverent attitude. Self-consciously mocking movie conventions – a depressed character actually gets stuck out in the rain – Crazy, Stupid, Love. believes that it's a more realistic portrait of the messiness of relationships than what we usually see. But that irreverence mostly translates to cutesy self-indulgence and one-note supporting roles. (The usually superb Marisa Tomei is quite awkward as an unlikely one-night stand, and the effervescent Stone seems to be merely repeating her adorable-snark routine that was fresher in Easy A.) For all its delusion of grandeur, it's surprising how conventional Crazy, Stupid, Love. gets as it nears its finale, springing character twists and forced emotional showdowns on the audience that are no craftier than the formulaic romantic dramas it think it's bettering.
Production companies: Carousel Productions, Di Novi Pictures
Domestic distribution: Warner Bros. Pictures, www.warnerbros.com
Producers: Steve Carell, Denise Di Novi
Executive producers: David A. Siegel, Vance DeGeneres, Charlie Hartsock
Screenplay: Dan Fogelman
Cinematography: Andrew Dunn
Production designer: William Arnold
Editor: Lee Haxall
Music: Christophe Beck, Nick Urata
Website: www.crazystupidlovemovie.com
Main cast: Steve Carell, Ryan Gosling, Julianne Moore, Emma Stone, John Carroll Lynch, Marisa Tomei, Kevin Bacon, Jonah Bobo, Analeigh Tipton