Dir. Jon Amiel. UK, 2009. 108 Mins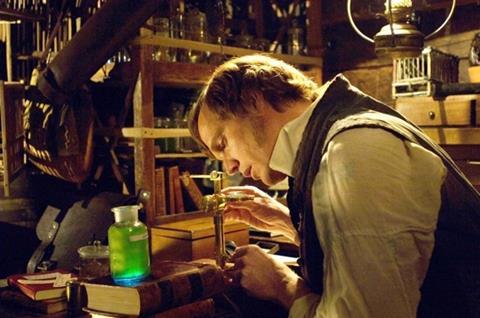 Released on the bi-centenary of Charles Darwin's birth and the 150th publishing anniversary of On The Origin Of Species, Creation opts to view the naturalist through a domestic prism; struggling to bridge a gulf of faith with his wife while preparing to publish the theories which will rock the religious establishment.
Jon Amiel, working from core material written by one of Darwin's descendants, focuses on the ailing Darwin's (Bettany) marriage to his first cousin Emma (Connelly), under further strain after the death of their beloved 10-year-old daughter Annie (West).
Bettany is undoubtedly the film's main asset: physically and emotionally convincing as Darwin in a very tricky role.
A life of Darwin in a 108-minute running time is by nature reductive, and Amiel and producer Jeremy Thomas are evidently hoping for wider audiences with Creation's humanising focus on his family. The danger is that devices - such as Annie's ghost, whom Darwin uses as a sounding board - could alienate the film's core upmarket crowd. Creation also has a tendency to become mired in the domestic, with Darwin scampering off to look at a rock formation every now and again to remind viewers of what this is really about.
But deft visual flourishes and some strong emotive touches here could connect with wider crowds, given critical support and enthusiastic marketing - awards recognition for Paul Bettany is crucial to this film's success in a marketplace where natural selection is particularly brutal at the moment.
Creation is presented out of sequence, with scenes of a current-day, sickly Darwin at odds with his wife and family interposed with flashbacks to his voyage on the HMS Beagle and interludes with his daughter, Annie, whom we quickly realise is no longer alive.
Darwin is crushed by the weight of what he has discovered and believes to be true; he is unable to finish his work despite urgings from his fellow scientists (Jones, Cumberbatch). Telling him, "you have killed God!" is perhaps unhelpful as Darwin – who was an atheist by the time Species was published – is theoretically at odds with his wife Emma, a devout Unitarian.
Crippling him further, as he retreats from society and almost all human contact, is the death of his oldest daughter, for which he feels responsible. Annie appears to him at times of particular crisis, a Schindler's List-style device, shot realistically and not entirely successfully..
For a film devoted to the publication of one of the most exciting, controversial books ever written, Creation seems intent on following a pretty mundane story arc involving Charles and Emma's marital rift – at times it feels as if the publication of On The Origin of Species is being reduced to whether or not they can kiss and make up in time. Although, in reality, they had always been opposed over religion, the film does eventually unveil the essence of their discord in extremely moving sequences which Bettany and Connelly evidently relish.
Also giving this handsomely-made production considerable jolts of energy are sequences in which Darwin is taken out into the larger world: briefly to Tierra Del Fuego on the HMS Beagle expedition when three Fuegian children are captured and taken back to Britain to meet the King and Queen; observing Jenny, an orang-utan, in captivity. Unexpected rapid-fire shots of nature's processes are also a booster.
Bettany is undoubtedly the film's main asset: physically and emotionally convincing as Darwin in a very tricky role. The actor's real-life partner Jennifer Connelly plays the naturalist's wife and first cousin Emma as chilly, if loving – her decision to adopt a sharply middle-class British accent could be historically accurate but grates. Amiel's core challenge here is to make audiences believe their story: parents to 10 children, eminent Victorians with an unusual devotion to their brood; the author of a book which changed the world.
In asserting the domestic over all else, Creation may have backed the wrong horse. The trouble is, that with Charles Darwin, a hundred films could be made that would never capture the essence of the man. Bettany comes as close as is reasonable to expect.
To sign up for Screen's weekly Reviews Newsletter with all the week's new releases, international openings and full festival reviews delivered free to your mailbox every Friday, please click HERE
Production companies
Recorded Picture Company
International sales
HanWay Films
+44 207 290 0750
Producer
Jeremy Thomas
Screenplay
John Collee, based on the book Annie's Box by Randal Keynes
Cinematography
Jess Hall
Production designer
Laurence Dorman
Editor
Melanie Oliver
Main cast
Paul Bettany
Jennifer Connelly
Jeremy Northam
Toby Jones
Martha West
Benedict Cumberbatch