Attendees at the annual Las Vegas shindig know they are always in for a treat and Paramount and Warner Bros did not disappoint in their content-heavy A-list presentations.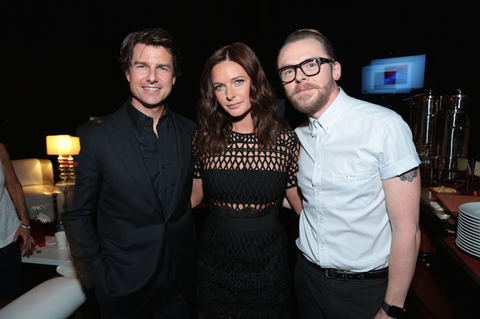 Paramount brought on Arnold Schwarzenegger in leather jacket and shades to talk up July 31 release Terminator Genysis before screening extensive footage.
Tom Cruise had the crowd in stiches as he joined fellow Mission: Impossible – Rogue Nation cast members Simon Pegg and Rebecca Ferguson and talked them through one of his stunts. The trio are pictured.
"I was scared shitless," the star said when the studio showed footage of him clinging to a plane as it climbed to more than 3,000 feet.
Ben Stiller delivered a recorded message in support of February 12 2016 release Zoolander 2 and Star Trek 3 director Justin Lin also taped a piece to trumpet his film, scheduled to arrive on July 8 2016.
The Warner Bros segment featured Dwayne 'The Rock' Johnson in support of San Andreas (May 29), Black Mass (September 18) footage with Johnny Depp, Michael B Jordan and Sylvester Stallone talking up Creed (November 25) and the cast of Entourage (June 3).
Studio chairman Kevin Tsujihara noted there would be at least 10 DC films up to 2020 and a trio of Lego releases.