2010 is a year of change for the Toronto International Film Festival (Sept 9-19) with the opening of the event's new headquarters. Suzan Ayscough speaks to festival co-directors Piers Handling and Cameron Bailey while Screen profiles select world premieres showing as galas and special presentations.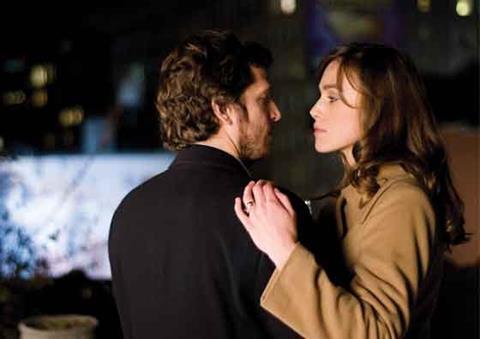 "Probing" is the word Piers Handling, CEO/director of the Toronto International Film Festival (TIFF) uses to describe the current state of world cinema.
"I think it's an anxious world," says Handling, speaking to Screen after the festival's announcement of gala screenings and special presentations. "It's the general uncertainty that's out there in the world, be it environmental, be it political, economic, or be it personal. It's not a settled world any more."
Nearly 300 films will unspool at TIFF this year, with world premieres including Danny Boyle's 127 Hours, starring James Franco; Massy Tad­jedin's Last Night, with Keira Knightley and Sam Worthington (pictured, above); Robert Redford's The Conspirator, starring James McAvoy and Kevin Kline; John Cameron Mitchell's Rabbit Hole, starring Nicole Kidman; and Casino Jack, starring Kevin Spacey as a high-powered lobbyist.
There are more UK titles in 2010 than usual, including world premieres of Mark Romanek's Kazuo Ishiguro adaptation Never Let Me Go (pictured); Andy DeEmmony's West Is West, written by Ayub Khan-Din as a follow-up to East Is East; Rowan Joffe's update of Brighton Rock (pictured); Nigel Cole's Made In Dagenham; Richard Ayoade's Submarine; and Michael Winterbottom's The Trip.
Canadian title Score: A Hockey Musical kicks off the festival on September 9, while Last Night will screen as Toronto's closing film.
TIFF co-director Cameron Bailey notes that 2010 is a "monumental year of change for the festival", with TIFF moving to a new headquarters, the TIFF Bell Lightbox, in the downtown heart of the city's entertainment district. New host hotel the Hyatt Regency is next door to TIFF Bell Lightbox and there is a new Film-­makers' Lounge around the corner. There are also new industry and press screening rooms at the Scotiabank theatres. And virtually everything is within a five-minute walk.
"It's such a huge year for us," says Handling, who points to the stability that comes with TIFF owning its own home and says that TIFF's 51 returning sponsors have also been joined by nine new ones.
In addition to the Scotiabank theatres, "three of the five" new TIFF Bell Lightbox screening rooms will also be used for screenings and "two will be used for installations", he says. Those are in addition to the many local theatres used for the public screenings that provide TIFF's invaluable test market and launchpad.