Dir: Dario Argento.Italy. 2012. 106mins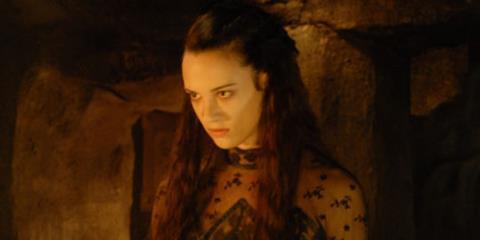 A bloodsucking euro-pudding of epic proportions, you have to hope that Dario Argento's Dracula was always planned as a bit of tongue-in-cheek, fang-in-neck, gothic silliness. In fact it is so lushly loopy that against all odds it could become something of a 3D cult title, and certainly for those of us who have 'experienced' it there is a certain 'I was there' badge of honour to go alongside having been at the Cannes screenings of The Brave or Southland Tales.
For Argento it is almost as if the vampire genre has never moved sideways into Buffy, Twilight, True Blood and Let The Right One In territory.
In truth though, what stands in the way of making the film a must-see cult number is that bizarrely, Argento lets things slip when it comes to the boobs, blood and barbarism that any self-respecting proper 3D horror B-movie really needs. Instead it is more sub-Hammer fare that never really makes the most of the stereoscopic 3D.
The film got its biggest laugh in the opening credit block with a line stating that it is a 'film of cultural interest', and from then on lacks any kind of knowing humour until a scene close to the end where Dracula (for some unexplained reason) turns himself into a giant green mantis to attack a drunken villager.
For Argento it is almost as if the vampire genre has never moved sideways into Buffy, Twilight, True Blood and Let The Right One In territory, as he takes it back to its Bram Stoker roots (well, at least he riffs off Francis Ford Coppola's 1992 adaptation) and favours cobbled Transylvanian villages, horse-drawn carts, busty village maidens and pointy stakes.
German actor Thomas Kretschmann plays Count Dracula as a stuffy and moody vampire who finds, in the form of fetching Mina Harker (Marta Gastini), the reincarnation of his beloved Dolingen De Gratz, who had died some 400 years before.
With the help of Mina's friend Lucy (Asia Argento), to whom he promises eternal life via a little bloodsucking action, he lures Mina to the Transylvanian village of Passo Borgo by pretending to offer her husband Jonathan (Unax Ugalde) a job as his castle librarian. Luckily the day is saved by the arrival of Abraham Van Helsing (Rutger Hauer hamming things up nicely) and his leather bag full of crosses, stakes, holy water and a healthy supply of garlic.
Kretschmann looks the part and has a few suitably daft lines ("I am nothing but an out-of-tune chord in the divine symphony," is his best as he sets about entrancing Mina), while Argento's daughter Asia provides her trademark silky sexuality without really smouldering…that is until she is set on fire and reduced to ashes. Miriam Giovanelli as sexy Tania – who is bitten early in the film - gives you hope that the film will launch into B-movie sexploitation territory, but her busty scenes are few and far between, and while there are a few nice 3D horror moments (heads chopped off, eyeball impaled etc) Argento's reputation as a horror maestro is not enhanced with this flabby and flailing movie.
Production companies: Multimedia Film Production, Enrique Cerezo P.C., Les Films de L'Astre
International sales: FilmExport Group, www.filmexport.com
Producers: Roberto di Girolamo, Gianni Paolucci, Enrique Cerezo
Screenplay: Dario Argento, Antonio Tentori, Stefano Piani, Enrique Cerezo, based on the novel Dracula by Bram Stoker
Cinematography: Luciano Tovoli
Editors: Marshall Harvey, Daniele Campelli
Production designer: Antonello Geleng
Music: Claudio Simonetti
Main cast: Thomas Kretschmann, Asia Argento, Marta Gastini, Rutger Hauer, Unax Ugalde, Miriam Giovanelli, Giovanni Franzoni, Franco Ravera, Giuseppe Lo Console