Dir/scr: Antonio Capuano. Italy. 2010. 108mins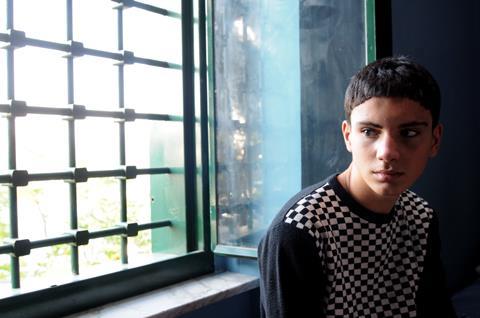 Sincere and passionate, Antonio Capuano's Dark Love is proof that there's still life in the first wave of new Neapolitan auteurs. Capuano was already thirty when Paolo Sorrentino (Il Divo) was born, but this drama centering on the consequences of a gang rape feels like the work of a young man still enamoured with the visual, aural and narrative potential of cinema.
The prison scenes in particular are full of surprising vitality and sympathy, as well as simmering violence.
It's deliberately low-fi in look and editing style, and deliberately undisciplined in the way it mixes scripted dialogue with seemingly improvised footage of theatre workshops and real-life speakers invited to talk at Naples' juvenile prison. But the central story of two teenage loners struggling to overcome the trauma that connects has a sensitivity that lifts the film above its sometimes over-earnest experimental tendencies.
The involvement of Fandango on the distribution side means that the film is guaranteed some arthouse action, at least in Italy's ten or so major cities, with broader audiences on home turf in Naples. Outside of this its prospects are less certain: it's a tough little film in more ways than one. Film premiered in the Venice Days section.
After a day at the beach spent drinking and toking a little weed, four proletarian teenage friends rape a sensitive young rich girl, Irene (De Angelis), on their way home. The four are sentenced to the juvenile prison of Nisida, an island fortress in the Bay of Naples. But it's Ciro (Agrio) that the script and camera are interested in: he's the one haunted by his act, eventually finding an outlet in writing letter after letter to his victim.
Irene, meanwhile, is increasingly lost in the bourgeois world she inhabits, though she finds escape in a drama class and a visit to a happy, unified Sri Lankan family who live in one of Naples' poorest suburbs.
We know Ciro and Angela's paths will eventually converge, but it's the way the film defers this outcome, against the backdrop of the real prison and the prison of the home, that justifies the audience's journey. The prison scenes in particular are full of surprising vitality and sympathy, as well as simmering violence. Capuano is good at communicating the vibrancy and sometimes stifling loyalties of closed societies: he did the same in Pianese Nunzio for the Catholic Church, and Luna Rossa for the Camorra. Not everything works here - a prison rap scene near the end is more embarrassing than cathartic - but enough does to make this odd love story oddly affecting.
Production companies: LGM – Ellegiemme, Rai Cinema
International sales: Rai Trade, www.raitrade.com
Producer: Gianni Minervini
Cinematography: Tommaso Borgstrom
Production designer: Maica Rotondo
Editor: Giogio Franchini
Music: Pasquale Catalano
Main cast: Irene de Angelis, Gabriele Agrio, Luisa Ranieri, Corso Salani, Fabrizio Gifuni, Valeria Golino, Anna Ammirati