Dir: Tim Burton. US. 2012. 113mins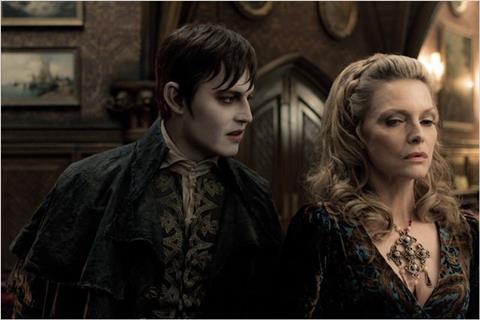 Dark Shadows, based on the cult soap opera of the late 1960s and early '70s, comes to the big screen directed by Tim Burton, which unfortunately turns out to be as much of a mixed blessing as one might fear. Though sporting his usual stylish production design and imaginative visual flair, this gothic comedy nonetheless suffers from the same lack of narrative focus that has haunted other recent Burton offerings like Alice In Wonderland. Johnny Depp, working with Burton for an eighth time, gives a spirited performance where the affectation doesn't outweigh the effectiveness, but still one walks away from the film remembering the costumes but not really the characters that wore them.
Burton busies himself with spectacle, but just as with his other recent Depp collaborations, Dark Shadows starts to feel like a collection of beautiful tech credits without much soul at the centre.
Opening May 11, Dark Shadows would seem to have sufficient box office firepower thanks to Depp and Burton's involvement, especially considering this is their first film together since the billion-dollar worldwide grosses of Alice In Wonderland. But what might be tricky is the fact that Dark Shadows, unlike most would-be summer blockbusters, doesn't fit comfortably into any one marketable genre, blending humour, horror, fantasy, tragic romance, and a bit of action-movie spectacle. (Added to this is the dilemma that audiences may not be that aware of the original television programme.) Still, it would seem unwise to bet against the Depp/Burton twosome, although a crowded May lineup could limit Dark Shadows to merely robust returns as opposed to record-breaking sums.
Drawing from the Dark Shadows TV series created by Dan Curtis, the film opens in the 18th century as young Barnabas Collins (Depp) courts his true soul mate Josette (Bella Heathcote), which infuriates his onetime lover Angelique (Eva Green). Vowing revenge, Angelique (who happens to be a witch) kills Josette and puts a spell on Barnabas that transforms him into a vampire. Entombed in a coffin by the angry townsfolk, Barnabas is freed in the year 1972, only to discover that his family's once impressive mansion has fallen into disrepair and that their wealth has all but vanished. Barnabas decides to reinvigorate the family's fishing empire, but he runs into trouble in the form of a local rival named Angie – who turns out to be Angelique, still determined to make his life miserable.
The original show contained a host of characters – including matriarch Elizabeth (now played by Michelle Pfeiffer), Elizabeth's daughter Carolyn (Chloe Grace Moretz), and family psychiatrist Julia (Helena Bonham Carter) – and while they all appear in the film, Burton seems to lose interest in them as he eventually turns his attention to the battle between Barnabas and Angie. But while that storyline runs through Dark Shadows, other crucial narrative threads – specifically, a mystical attraction between Barnabas and the family's new nanny, Victoria (also played by Heathcote) – aren't given sufficient build-up before they become important plot elements during the third act. (Symptomatic of the storytelling issues is that Victoria arrives at the mansion to be the caretaker of the disturbed young boy David, played by Gully McGrath, but then we barely see any interaction between them the rest of the film.)
Instead, Burton busies himself with spectacle, but just as with his other recent Depp collaborations, Dark Shadows starts to feel like a collection of beautiful tech credits without much soul at the centre. That's surprising in this case since Dark Shadows harks back to his first film with Depp, Edward Scissorhands, which satirised traditional mainstream society while championing a lonely misfit as an unlikely hero. Indeed, Burton has cast his lot with the outsiders throughout much of his career, but this new film loses momentum as the comic freshness of Barnabas's fish-out-of-water dilemma fades away.
With that said, there is a welcome kinkiness on display that gives the film a consistent jolt. This is provided primarily by Green, whose fetching figure and naughty eyes keep Dark Shadows on edge. Her back-and-forth with the stiff, formal Barnabas entertains throughout and is in some ways reminiscent of Burton's Batman Returns and its unconventional love story between adversaries who are more compatible than they care to admit. (Ironically, Pfeiffer, who played Catwoman in Batman Returns, is mostly on the sidelines for Dark Shadows.) But ultimately Dark Shadows can't overcome a clear flaw, which is that Barnabas's conflicted feelings for the alluring Angie are far more compelling than his supposed bond to the bland Victoria, who may be the reincarnation of his dearly departed Josette.
Depp is known for embracing outlandish, mannered performances in Burton's films, but his Barnabas is actually tightly controlled, an old-school gentleman hopelessly out of step with 1970s culture. It's a funny turn that he wisely underplays, but without an engaging story to propel him, it mostly exists in a vacuum. Likewise, the supporting cast largely fade into the background, making it easier to admire what really works in Dark Shadows, which are Colleen Atwood's impeccable costumes and Rick Heinrichs' immaculate production design.
Production companies: Village Roadshow Pictures, Infinitum Nihil, GK Films, Zanuck Company
Domestic distribution: Warner Bros. Pictures, www.warnerbros.com
Producers: Richard D. Zanuck, Graham King, Johnny Depp, Christi Dembrowski, David Kennedy
Executive producers: Chris Lebenzon, Nigel Gostelow, Tim Headington, Bruce Berman
Screenplay: Seth Grahame-Smith, story by John August and Seth Grahame-Smith, based on the television series created by Dan Curtis
Cinematography: Bruno Delbonnel
Production design: Rick Heinrichs
Editor: Chris Lebenzon
Music: Danny Elfman
Website: www.darkshadowsmovie.com
Main cast: Johnny Depp, Michelle Pfeiffer, Helena Bonham Carter, Eva Green, Jackie Earle Haley, Jonny Lee Miller, Chloe Grace Moretz, Bella Heathcote, Gully McGrath