Dir: John Stockwell. US. 2011. 114mins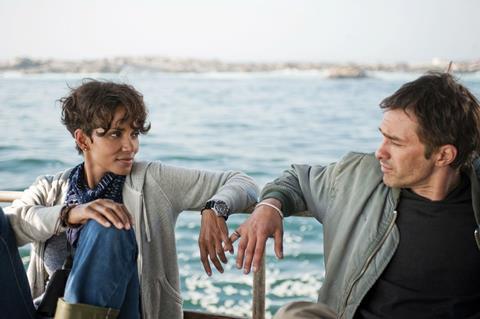 In Dark Tide, Halle Berry plays a marine biologist who's known as a "shark whisperer," and likewise this waterlogged drama-thriller barely made any noise commercially due to a small theatrical release that was accompanied by almost no publicity whatsoever. Such a strategy naturally creates an impression that the film must be a disaster, but while this tale of an estranged couple who reunite to lead a shark expedition isn't an outright embarrassment, it nonetheless suffers from wobbly dramatic tension and an overlong running time.
Berry simply doesn't have the grit to convince as a rough-and-tumble marine biologist who can pal around with deadly sharks with utter confidence.
After a limited domestic release that began March 30, this Wrekin Hill offering will quickly migrate to DVD on April 24. More than likely, Dark Tide will end up a forgotten curiosity, although Berry's name might help its visibility when it surfaces on cable.
As Dark Tide opens, lovers Kate (Berry) and Jeff (Olivier Martinez) are working together on a documentary about sharks, her area of expertise. But after an ocean dive results in the death of one of her colleagues, Kate refuses to go back into the water, and she and Jeff split up. But a year later, Jeff convinces her to serve as a tour guide for daredevil millionaire Brady (Ralph Brown), who promises to pay them an exorbitant sum if he can see sharks up close. But their fun-loving adventure soon turns dire when their boat enter rough waters that may doom them.
Dark Tide was directed by John Stockwell, who also helmed the water-themed dramas Into The Blue and Blue Crush. Perhaps not coincidentally, his new film feels most comfortable in its exploration of how the vastness of the ocean strips away its characters' connection to society, returning them to a natural (almost primitive) state of being.
In its early stretches, the movie impresses with its underwater photography as Stockwell and cinematographer Jean-Francois Hensgens portray the ocean as both a majestic wonder and also a terrifying place filled with dangers lurking beneath the calm surface. Additionally, Berry and Martinez believably play a long-term couple who have gone through their share of ups and downs, unsure if it would be wiser for them to stay separated or get back together.
Unfortunately, the screenplay by Amy Sorlie and Ronnie Christensen bites off far more than it can chew, trying to balance Kate and Jeff's romantic travails with a lacklustre disaster-movie narrative. Also unsuccessful is the film's attempt to turn the characters' journey through these heavily shark-infested waters into a life-or-death metaphor for the interpersonal tensions going on in the boat. There's something commendable about Dark Tide's serious aspirations, but unfortunately Stockwell's unhurried tone portends a grand tragedy that the soap-opera plot can't justify.
Despite her striking presence, Berry simply doesn't have the grit to convince as a rough-and-tumble marine biologist who can pal around with deadly sharks with utter confidence. Martinez possesses the seductive sexual spark that suggests why Kate can't let him go, but like Berry the actor feels oddly out of place amidst the rugged environment of the high seas.
Production companies: Row 1 Productions, Magnet Media Productions, Mirabelle Pictures, The Infinite Ammo Motion Picture Company, IM Global, MMP Dark Tide, Film Afrika
Domestic distribution: Wrekin Hill Entertainment, www.wrekinhillentertainment.com
Producers: Jeanette Buerling, Matthew E. Chausse
Executive producers: Adi Shankar, Spencer Silna, Maggie Monteith, Martin Shore, Christopher Tuffin, Sukee Chew, John Michaels
Screenplay: Amy Sorlie and Ronnie Christensen, story by Amy Sorlie
Cinematography: Jean-Francois Hensgens
Editor: Andrew MacRitchie
Music: Mark "Dog" Sayfritz
Website: www.dark-tide-movie.com
Main cast: Halle Berry, Olivier Martinez, Ralph Brown