Dirs: David and Stephane Foenkinos. France. 2011. 109mins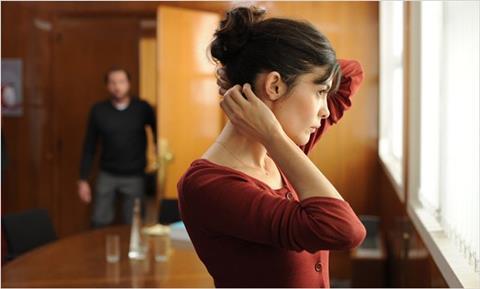 An attractive young woman whose deliriously happy marriage was cut short by her handsome husband's death, finds herself sort of attracted to a goofy looking co-worker in Delicacy (La Délicatesse). In adapting his eponymous 8th novel (two others have been bought for the screen), bestselling author David Foenkinos makes an honorable, even stylish feature directing debut with his brother Stephane, a veteran casting director.
Tautou has done variations on this role before, but her brand of charm still fits the bill.
Although it slots perhaps too neatly into her resumé of forthright-gamines-in-mild-distress, this is an appealing role for Audrey Tautou. Her elfin slinkiness is nicely matched with hulking Belgian comedian Francois Damiens in this fetchingly art-directed bittersweet comedy.
Tautou, Damiens (the bumbling tech assistant in Heartbreaker and a master of hidden camera TV pranks) and Foenkinos would appear to be a winning box-office combo especially in French-speaking territories where unlikely couples - Isabelle Huppert and Benoit Poelvoorde in My Worst Nightmare, Francois Cluzet and Omar Sy in juggernaut Intouchables - are recently all the rage. Domestic exhibitors are enthused since the film received the official seal of approval ("label de qualité") from the three major French theatre chains. StudioCanal has sold the December 21st release to over 15 international territories.
Nathalie (Tautou) and Francois (Pio Marmai) meet in a Paris cafe, enjoy a perky courtship and satisfying marriage. They're so adorable together that it's not difficult to share Nathalie's grief when the love of her life unexpectedly dies.As the title suggests, love and loss are treated with delicate strokes while also ticking the boxes concerning how a handsome Parisian couple and their funky/quaint surroundings should look.
Nathalie throws herself into her administrative work at the apparently prosperous French branch of a firm that has unspecified dealings with Sweden. The Nordic design of spacious offices is timeless and tasteful with lots of wood. Viewers who tend to like the look of films by Aki Kaurismaki should approve.
After three years of celibate widowhood, Nathalie inexplicably kisses unassuming subordinate, Markus (Damiens), one of half a dozen employees who answer to her.Markus is transported and his glee is beautifully translated into laugh-out-loud imagery. Nathalie, on the other hand, seems utterly unaware of her bizarre gesture.
From that juncture on, both parties play variations on "Could she really be interested in ME?" and "Could I really be interested in HIM?" which are nicely modulated by the talented protagonists.A very unlikely Prince Charming, Markus is a Swede who learned French in Belgium and has lived in France much of his adult life.
In the novel, low-key Markus' impact is described as being like that of "one comma in an 800 page book." Painfully aware of his own unexceptional looks, Markus describes his discomfort to Nathalie thus: "It's as if Liechtenstein went out for coffee with the USA."
His tentative, low-budget courtship is especially amusing in comparison with the flashy attempts Nathalie's boss Charles (Bruno Todeschini ) makes to woo her.
Nathalie's friends are judgmental, her co-workers incredulous. Jealous Charles blurts out that it's inconceivable that Nathalie could have romantic feelings for somebody "so ugly and insignificant. It's true he's nothing to look at, but he's sensitive, polite, reserved and fundamentally decent.
The Foenkinos brothers have fun with the way office gossip works as news of the possible link between Nathalie and Markus spreads.
Damiens - who mined his comical-yet-sensitive range to outstanding effect as the mayor and patriarch in 2009's The Wolberg Family - couldn't be better as the accommodating male wallflower who wants to protect his own feelings because what seems to be happening in fits and starts strikes him as too good to be true.
Tautou has done variations on this role before, but her brand of charm still fits the bill.Supporting players are all well delineated with a special nod to Audrey Fleurot as an impossibly curvaceous Mad Men-inspired secretary.Popular French songbird Emilie Simon contributes an appealing instrumental score as well as 5 songs.
Production companies: 2.4.7 Films, StudioCanal, France 2 Cinema
International sales: StudioCanal, www.studiocanal.com/en
Producers: Xavier Rigault, Marc-Antoine Robert
Screenplay: David Foenkinos, based on his novel
Cinematography: Rémy Chevrin
Production designer: Maamar Ech-Cheikh
Editor:Virginie Bruant
Music: Emilie Simon
Main cast: Audrey Tautou, Francois Damiens, Bruno Todeschini, Melanie Bernier, Josephine de Meaux, Pio Marmaï, Monique Chaumette, Audrey Fleurot, Ariane Ascaride, Christophe Malavoy