Dir: Madhur Bhandarkar. India. 2011. 116mins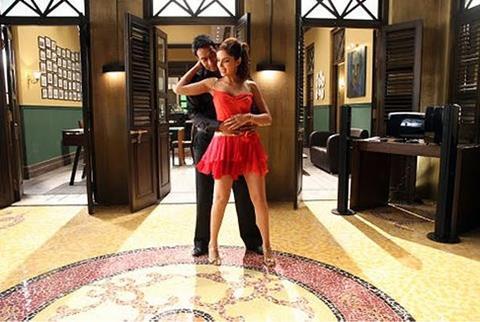 Women are on top in Madhur Bhandarkar's first purported comedy, Dil Toh Baccha Hai Ji (The Heart is a Child). The director, who earlier gave us thematic dramas such as Chandni Bar, Corporate, Page 3, Traffic Signal and Jail, ends up in his latest work narrating the sob story of three men sharing a roof and bonded by unrequited love.
The acting honours undoubtedly go to Shazhan Padamsee in what may well be a career clinching debut in a large canvas of otherwise forgettable actors.

There really is very little humour, and the movie may disappoint those Bhandarkar fans anticipating a huge change in his form, style and story line. And the plot of male bonding is not exactly hot enough to seduce one into a theatre, and the first weekend returns have been only modest.

Naren Ahuja (Ajay Devgn) is fighting loneliness after his recent divorce and takes in two guys, Abhay (Emraan Hashmi) and Milind Kelkar (Omi Vaidya) as paying guests in his sprawling ancestral house. While, Naren tries to infuse a bit of Botox into his sagging physique by dreaming of a possible relationship with a very young office intern, June (Shazhan Padamsee, daughter of the celebrated theatre personality and advertisement guru, Alyque Padamsee), Abhay beds multimillionaires Anushka Narang (Tisca Chopra) and Milind woos a radio jockey, Gungun Sarkar (Shradha Das).

However, Abhay's ulterior motive to get rich through Anushka hits the wall when he falls in love with her stepdaughter, Nikki Narang (Shruti Haasan, daughter of Tamil superstar, Kamal Haasan). Milind faces his own variety of misfortune when he is taken for a neat ride.

The women walk away with seductive swaggers, leaving the men absolutely clueless in what eventually turns out to be a lazy script, dampened further by careless performances. Hashmi is making it a habit to sleepwalk through his parts, and Devgn refuses to take off his wooden mask. The acting honours undoubtedly go to Padamsee, who really fits her chirpy character in what may well be a career clinching debut in a large canvas of otherwise forgettable actors.


Production companies: Bhandarkar Entertainment and Wide Frame Pictures
International sales: Baba Arts
Producer: Madhur Bhandarkar and Kumar Mangat Pathak
Screenplay: Madhur Bhandarkar, Anil Pandey and Neeraj Udhwani
Cinematography: Ravi Walia
Editor: Deven Murdeshwar
Music: Pritam Chakraborty
Main cast: Ajay Devgn, Emraan Hashmi, Omi Vaidya, Tisca Chopra, Shruti Haasan, Shradha Das, Shazhan Padamsee