A huggable robot with super powers? Disney unveiled impressive first footage of just that today in the shape of Big Hero 6, their new animation inspired by a little-known Marvel comic.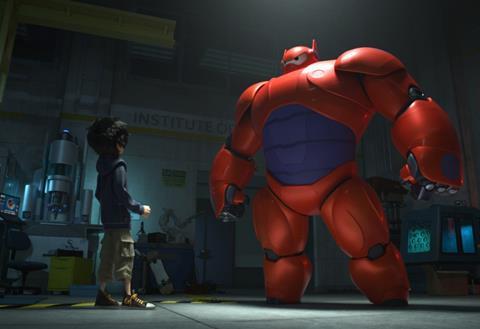 The comedy adventure, an adaptation of a Marvel comic miniseries that debuted in 1998, centres on plus-sized robot Baymax and a young technology prodigy Hiro, who team with a group of friends to form a band of high-tech heroes.
Producer Roy Conli (Tangled) was on hand to discuss the film at the Soho Hotel in London this morning.
"Going with a lesser-known Marvel comic was better for us," said Conli. "Finding something off-to-the-side gave us complete freedom for the film."
That freedom included the ability to create the unique setting for the film: the high-tech city of San Fransokyo. The fictional metropolis combines the bay-area elements of San Francisco and the big-city skyscrapers of Tokyo, where the film will get its world premiere on Oct 23.
Suffice to say, the graphics and lighting of the film were brilliant. The production traveled to universities across the world, including Carnegie Melon, MIT and Tokyo, to research robotic advancements - including soft robotics - in order to accurately portray Baymax while the film's score includes original music from Fall Out Boy.
Big Hero 6 is in post-production with the team expecting to lock in the coming weeks.
Preceding the screening was a preview of Feast, a new short from first-time director Patrick Osborne (animator on Tangled and Wreck-It Ralph), which tells the story of one man's love life as seen through the eyes of his best friend and dog, Winston. The short story is unveiled bite-by-bite through the meals they share.