As the unflagging Avatar looks set to overtake Titanic as the biggest international film of all time, Jeremy Kay looks at the Herculean effort it has taken to carry James Cameron's vision from drawing board to 15,000 screens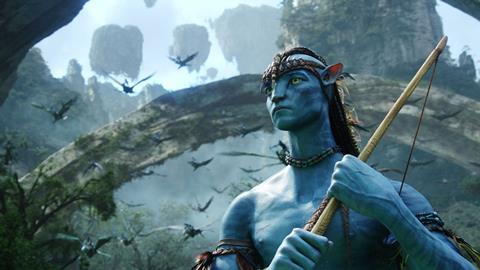 The handful of executives who gathered in an old print vault on the 20th Century Fox lot in 2007 - known as the War Room - knew two things for sure when they sat down to discuss long-term strategy: James Cameron's vision for his 3D space opera was sumptuous, intoxicating even, and it would take an intimidating amount of work to get it seen by the global audience it deserved.
Fast forward almost three years to December 10, 2009, and a screaming crowd has braved a cold night for the world premiere of Avatar at London's Odeon Leicester Square. Inside, Fox International co-presidents Paul Hanneman and Tomas Jegeus, both part of that War Room conclave, are feeling somewhat overwhelmed.
"We started planning the minute the film was greelit because we knew how big an endeavour this would be".

Tomas Jegeus
"It almost brought tears to my eyes," Hanneman said, speaking from Los Angeles last week. "To see the 10-minute standing ovation was incredible. I felt relief that we'd finally made it." A week after the premiere, Fox International unleashed Avatar on 14,604 screens in 65 international markets day and date with North America, generating $165.5m and setting a trail of industry and Fox overseas launch records. "We thought that was a good start. We knew word of mouth was going to be huge."
To get from that first strategy meeting to Avatar's world-beating status required a Herculean effort. "We started planning the minute the film was greenlit because we knew how big an endeavour this would be," Jegeus says. "We'd both worked on Titanic." (At the time, Jegeus was marketing director for Fox in the UK and Hanneman was senior vice-president of Fox Asia-Pacific.)
1997's Titanic, Cameron's last outing, was the one to beat having spent 12 years as "king of the world", but prior to Avatar that was unthinkable. Now Avatar is on course to take its crown. "We're going to beat Titanic internationally very soon," Hanneman adds. "And then it's a question of how much further it goes." It took Titanic 123 days to cross $1bn overseas, while Avatar, which like the former has recorded widespread repeat viewings and miniscule box office drop offs, did it in 28 days.
Last weekend, the blue-blooded blockbuster crowned its fifth week of release by adding $128.9m from 14,575 screens in 122 markets to reach $1.12bn.
Combined with the $505m-and-counting North American tally, the global take stood at $1.625bn as of January 18. Compare this to Titanic's $1.842bn global, $1.242bn international and $600.8m domestic tallies.
"It's incredible," Hanneman says. "We sat down several years ago and said, 'Can we beat Titanic?' It seemed impossible so we figured we'd aim to be the second biggest movie of all time." Fox chiefs knew they had something special four years ago when Cameron, who spent more than 14 years working on Avatar, screened a 20-minute pre-vis sequence. Studio top brass took key global personnel on a tour of Cameron's Lightstorm Entertainment facility. An exhibitor and select press tour to the Weta facility in New Zealand would follow, as well as visits by Cameron and producing partner Jon Landau to Cinema Expo in Amsterdam last June, which culminated in a 40-minute screening of exclusive footage.
Fox International's print services team, which Hanneman cannot praise highly enough, generated 70 different versions of 35mm prints, 18 2D digital versions, 93 3D versions, 17 Imax 70mm versions and 18 Imax digital versions. "We had more than 15,000 prints internationally and 5,000 of them are 3D and have never had a movie of this scale," Hanneman says. "We went from a total of 2,700 3D screens for Ice Age: Dawn Of The Dinosaurs last July to more than 5,000 for Avatar."
"The post-production team pretty much worked 24/7 the last few months," Jegeus says. "There were times when we wondered if we'd have to move back the release dates. We'd promised delivery and our international exhibition partners responded by building screens at a great pace, so we had to deliver on time." Fox did not go for a hard sell on the 3D element in the Avatar equation. So far 3D has accounted for roughly 65% of the total overseas box office due to the format's wide appeal as well as premium pricing. Imax has also been huge and Avatar has already become the first film to gross more than $100m worldwide on the large-screen format. "But at the end of the day," Jegeus says, "it comes down to the film."
"We went from a total of 2,700 3D screens for Ice Age: Dawn Of The Dinosaurs last July to more than 5,000 for Avatar."

Paul Hanneman
Jegeus orchestrated regional promotions and major global partnerships with LG Electronics, McDonald's, Coke Zero and Panasonic. Alongside the publicity tours and last August's Avatar Day, when footage was screened in selected cinemas across the world, there were also sophisticated tie-ins. A TV spot showed an LG smartphone projecting the trailer and a Coke Zero gimmick allowed consumers to transform their computer keyboards into on-screen missile launchers or helicopter controls.
Avatar has taken more than $115m in France and is set to cross $100m in Germany, Russia, UK and China. Taiwan, a depressed market of late, will cross $20m any day now. Avatar took 13 days to reach $75.6m and become the biggest release ever in China, where Imax is sold out until March and some cinemas are screening it 24 hours a day. It is understood the film will continue to play on 900 3D screens after the government is said to have withdrawn it in favour of Confucius. A black market for tickets has sprung up in China and Russia. Naturally there has been 2D piracy, however Hanneman and Jegeus do not know the resulting loss in earnings.
"It started out with a male skew in the first weekend, but women quickly came aboard," Jegeus says. "The family audience came out in droves over the holidays. Everybody is seeing it."
TOP 20 AVATAR MARKETS TO JANUARY 17
| Territory | Cume | Release date | 3D Portion | 3d BO % Total | Titanic final cume |
| --- | --- | --- | --- | --- | --- |
| US | $504,868,451 | 18 Dec '09 | $400,485,185 | 79% | $600,788,188 |
| France | $115,281,799 | 16 Dec '09 | $86,912,045 | 75% | $129,127,181 |
| Russia | $88,505,161 | 17 Dec '09 | $62,287,122 | 70% | $5,084,138 |
| Germany | $85,830,810 | 17 Dec '09 | $62,972,993 | 73% | $129,974,110 |
| UK | $80,683,974 | 18 Dec '09 | $68,238,179 | 85% | $114,063,718 |
| China | $75,580,571 | 4 Jan '10 | $48,767,040 | 65% | $43,928,666 |
| South Korea | $70,702,863 | 17 Dec '09 | $31,527,964 | 44% | $17,287,679 |
| Spain | $69,168,329 | 18 Dec '09 | $42,330,158 | 61% | $44,103,989 |
| Australia | $68,827,952 | 17 Dec '09 | $56,419,514 | 82% | $38,895,108 |
| Japan | $66,406,836 | 23 Dec '09 | $52,485,661 | 79% | $201,389,568 |
| Brazil | $33,870,855 | 18 Dec '09 | $17,176,297 | 51% | $70,460,123 |
| Mexico | $32,448,646 | 17 Dec '09 | $14,287,366 | 44% | $27,033,554 |
| India | $20,495,064 | 18 Dec '09 | $5,761,542 | 28% | $12,749,919 |
| Taiwan | $19,078,191 | 18 Dec '09 | $16,715,771 | 88% | $24,614,481 |
| Polan | $15,562,256 | 25 Dec '09 | $14,395,338 | 93% | $14,078,241 |
| Italy | $15,249,577 | 15 Jan '10 | $10,295,839 | 68% | $69,953,353 |
| Hong Kong | $15,079,818 | 17 Dec '09 | $14,296,125 | 96% | $15,162,875 |
| Sweden | $14,368,600 | 18 Dec '09 | $6,833,867 | 48% | $24,567,572 |
| Netherlands | $14,191,426 | 17 Dec '09 | $11,776,186 | 83% | $27,024,293 |
| Switzerland | $11,231,892 | 17 Dec '09 | $8,253,518 | 73% | $19,449,406 |