Dir: John Patrick Shanley. US. 2008. 104 mins.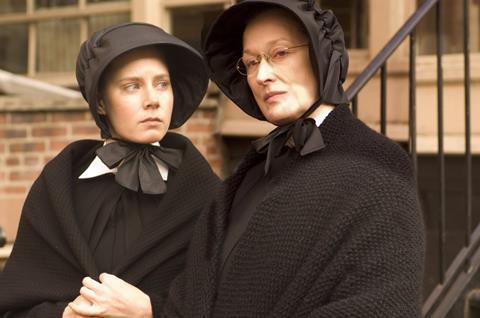 A performance-centred adaptation of John Patrick Shanley's own 2005 Tony Award-winning powerhouse stageplay, Doubt is an effectively ambiguous, high-pedigree adult drama that entangles viewers in slow, sure-handed fashion. Intimately constructed, tightly wound and above all trusting of an audience's appreciation for textual subtlety, the film is sure to be short-listed in several of the main categories this awards season.
Doubt is thematically reminiscent of David Mamet's Oleanna, another streamlined, character-focused piece hinging on the audience's interpretation of a charged event (which in this case takes place offscreen). Considerable critical and awards attention should power mid-level box office when this opens in the US on December 12, and international interest should be fairly strong as well given the film's religious overtones.
Set in 1964, the film unfolds at St. Nicholas, a private Catholic academy in New York's Bronx where the middle school students live in fear of the imperious Sister Aloysius Beauvier (Streep), the school's principal. Much more sympathetic to the difficulties of adolescence is Father Flynn (Hoffman), the relatively new parish priest who seems attuned to the waves of societal change spreading across the country.
When Father Flynn seems to take a special interest in the school's first African-American student, Donald (Foster II), history teacher Sister Marie James (Adams) becomes suspicious and reports her concerns to Sister Beauvier. Despite a lack of any firm evidence other than her own sense of moral certainty, Sister Beauvier becomes convinced that Father Flynn has made inappropriate sexual advances to Donald, and ignites a battle of wills in an effort to oust him from the school. Is he guilty, and will he confess'
In adapting the material for the screen, Shanley neither tries to greatly expand the scope of the story, nor inflate the narrative with fancy directorial tricks. Shot by cinematographer Roger Deakins in muted tones that convincingly convey autumnal chill, even indoors, the movie frequently feels as if it takes place in its own sealed biosphere in the best possible sense.
While pederast Catholic priest jokes entered the mainstream over the past decade, and would seemingly work against the suspense of the did-he-or-didn't-he element of the story, Shanley does a fantastic job of sketching out the interior lives of the characters, in particular Father Flynn, which, when separated from their actions, gives the film a further moral complexity, and greyness.
The centrepiece is a fabulous sequence between Flynn and Sisters Beauvier and James, in which tea and the pretence of a discussion about the coming Christmas play give way to a much more direct confrontation than we have anticipated. Shanley directs this extended scene, but also a few others, as essentially chess matches. Given that so many films trade in only the quick turn of emotion necessary to immediately advance plot, it's a rare treat to watch the full arc of an emotional reaction in several self-contained scenes.
Streep's engrossing performance seems a lock for her 15th Oscar nomination. It begins as an exercise in terseness, all clipped tones and slightly accented scolding. As the movie unfolds, however, there are even a few flashes of humanising humour and Sister Beauvier blossoms into a character every bit as complex as Father Flynn.
As Flynn, meanwhile, Hoffman's righteousness gives the film a compelling counterweight. Playing Donald's mother, Viola Davis makes a strong impression in her one, extended scene, and could see some attention in Best Supporting Actress categories.
International distribution
Miramax Films
Producers
Scott Rudin
Mark Roybal
Screenplay
John Patrick Shanley, based upon his stage play
Director of photography
Roger Deakins
Production designer
David Gropman
Music
Howard Shore
Editor
Dylan Tichenor
Costume designer
Ann Roth
Main cast
Meryl Streep
Philip Seymour Hoffman
Amy Adams
Viola Davis
Alice Drummond
Audrie Neenan
Joseph Foster II