Dir: Jim Sheridan. US. 2011. 91mins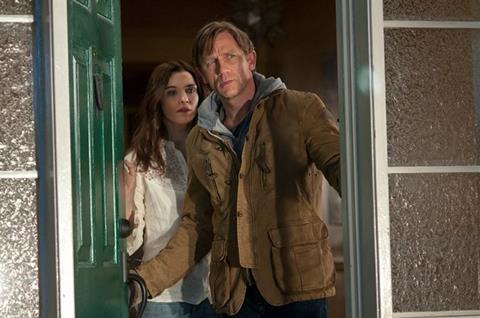 Despite starting off as an intelligent, realistic treatment of the traditional haunted-house thriller, Dream House gets progressively more ludicrous and hackneyed as it goes along, chasing away any goodwill in the process. Although its advertising suggests it's a horror movie, this new film from Oscar-nominated director Jim Sheridan (My Left Foot, In The Name Of The Father) is more accurately described as a character-driven suspense piece, which requires a far more nuanced take than stars Daniel Craig, Naomi Watts and Rachel Weisz can bring to a tonally inconsistent tale.
Craig does good work as the loving father and husband who suddenly finds his world shaken to the core.
Released September 30 without screening for critics, Dream House will have to rely on audience familiarity with its three stars to generate theatrical interest. Indeed, this Universal offering may simply fall through the cracks because it's not enough of a horror film, character drama, or psychological thriller to really attract any of those genres' fans. Mediocre reviews and lukewarm word-of-mouth may prove a nightmarish combo working against Dream House's box office prospects.
Deciding to quit his publishing job to spend time with his family and work on a novel, Will (Craig) uproots from New York City and moves his wife (Weisz) and young daughters to suburban Connecticut. But their idyllic new world is quickly upended when Will discovers that their house was the site of some brutal murders five years ago – and that the husband who supposedly committed them still lives in the area.
In its setup, Dream House promises to be an elegant chiller in which Will must defend his family from an external menace they may only be imagining. But soon the mystery of the assumed murderer leads to a twist that complicates Will's family's connection to the homicides. From then on, Sheridan's understated direction starts losing its sure footing, giving way to a more convoluted and hyperbolic style that becomes entirely too dependent on character secrets that are either fairly obvious or needlessly preposterous.
This is especially disappointing because Craig does good work as the loving father and husband who suddenly finds his world shaken to the core. Without spoiling anything, let it be said that he must present one guise to the audience that eventually evaporates once the truth of the house is revealed. This requires a layered, sympathetic performance, and Craig is up to the task, even when the screenplay (courtesy of David Loucka) starts to stack up the contrivances.
As for Craig's female co-stars, Watts and Weisz provide down-to-earth turns as Will's neighbour and wife, respectively, but the filmmakers see them mostly as devices to forward Will's story, which leaves them feeling underused in the unfolding drama.
During its production, Dream House reportedly had to undergo re-shoots after unfavourable test screenings, and while it's not known what new scenes or sequences were added, if any, the film's third act feels so tonally and stylistically removed from the rest of the movie that it's tempting to wonder if a more conventional ending with a climactic action showdown was inserted to satisfy mainstream audiences.
Regardless, what began as a modest character piece eventually becomes a dull fight to the death in which all the secrets are revealed in blunt expository ways. For a movie that's in part about the importance of facing up to difficult truths, it's unfortunate that Dream House ends up taking the easy way out rather than really delving into the character complexities it hints at.
Production companies: Morgan Creek, Bobker/Kruger Films
Domestic distribution: Universal Pictures, www.universalpictures.com
Producers: James G. Robinson, David Robinson, Daniel Bobker, Ehren Kruger
Executive producers: Rick Nicita, Mike Drake
Screenplay: David Loucka
Cinematography: Caleb Deschanel
Production designer: Carol Spier
Editors: Glen Scantlebury, Barbara Tulliver
Music: John Debney
Website: www.dreamhousemovie.net
Main cast: Daniel Craig, Naomi Watts, Rachel Weisz, Marton Csokas, Elias Koteas, Jane Alexander