Dir: Kevin Munroe. US. 2011. 107mins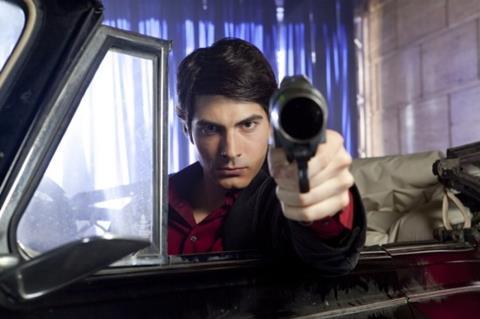 Five years after his high-profile emergence as the Man of Steel in the commercially disappointing Superman Returns, Brandon Routh takes on his first post-Superman starring role in Dylan Dog: Dead Of Night, a feeble comedy-horror-detective movie. Based on the Tiziano Sclavi comics about a gumshoe who traffics in vampires, werewolves and other bogeymen, the film longs to be a hip skewering of noir and monster movies but instead is kneecapped by mediocre effects, indifferent performances and a generally dull design.
Dylan Dog suffers from an overconfidence in its own cleverness.
Failing to ignite the box office after its April 29 release, the independently distributed Dylan Dog will beat a quick retreat from theatres before resurfacing on DVD and cable. Routh's connection to Superman Returns might help the film's visibility somewhat, but this B-movie's lack of a distinctive style or tone will probably keep it from being any sort of cult attraction.
In New Orleans, Dylan Dog (Routh) is a detective specialising in infidelity cases when he's suddenly pulled back into his old world of investigating the city's supernatural goings-on after the mysterious murder of the father of Elizabeth (Anita Briem), a beautiful woman who swears the killer was some sort of inhuman creature.
Directed by Kevin Munroe (TMNT), Dylan Dog is structured not unlike classic Hollywood noirs in the vein of The Maltese Falcon in which a tough-talking private eye mixes it up with seedy characters and a femme fatale. In this case, however, the seedy characters might be zombies or bloodsuckers as Dylan and his partner Marcus (Sam Huntington) navigate through the city's nocturnal dangers. There's moderate interest in discovering the rules and social hierarchy of this fantasy world, but regrettably the discoveries tend to come exclusively through Dylan's expository dialogue, which soon becomes a tiresome device.
Dylan Dog also suffers from an overconfidence in its own cleverness, incorporating a traditional hard-boiled voiceover that's meant to demonstrate Dylan's seen-it-all worldview but instead underscores the lack of real surprise or ingenuity in the storytelling. Along the same lines, Munroe and cinematographer Geoffrey Hall fail to give the movie (mostly set a night) a noir-ish atmosphere. Put more bluntly, the film's overall visual palette leans toward the murky and drab, while cheap-looking special effects and makeup feel like an unfortunate example of doing less with less.
As the blasé private eye secretly haunted by his past, Routh sports a welcome emotional openness, but his clean-cut looks don't mesh with the character's dark demeanour. Taye Diggs is serviceable as the chief villain in this monster underworld, but Huntington overplays Marcus' freaked-out incredulity at the creeping creatures all around him. Briem, like most of the cast of Dylan Dog, seems to be marking time until something better comes along.

Production companies: Hyde Park Entertainment, Platinum Studios, Inc., Omnilab Media
Domestic distribution: Freestyle Releasing, www.freestylereleasing.com, Omni/FSR, www.omnilab.com.au
Producers: Ashok Amritraj, Scott Mitchell Rosenberg, Gilbert Adler
Executive producers: Christopher Mapp, Matthew Street, David Whealy, Peter D. Graves, Randy Greenberg, Kevin Munroe, Patrick Aiello, Lars Sylvest
Screenplay: Thomas Dean Donnelly, Joshua Oppenheimer, based on the comic series Dylan Dog created by Tiziano Sclavi
Cinematography: Geoffrey Hall
Production designer: Raymond Pumilia
Editor: Paul Hirsch
Music: Klaus Badelt
Website: www.dylandogdeadofnight.com
Main cast: Brandon Routh, Sam Huntington, Anita Briem, Peter Stormare, Taye Diggs