Dir/co-scr: Ryan Murphy. US. 2010.143mins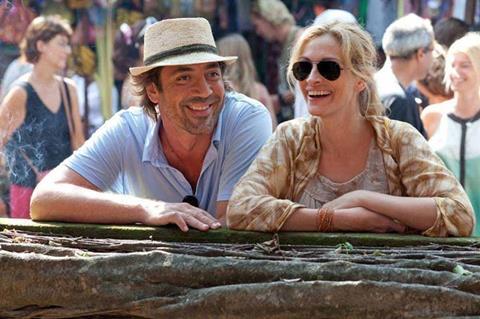 The love takes precedence over the eating and the praying in writer-director Ryan Murphy's screen version of Elizabeth Gilbert's hugely popular memoir Eat Pray Love. Murphy's smooth romantic drama should largely satisfy the book's legion of fans, providing the film with a built-in audience of mostly thirtysomething and older women. But even with Julia Roberts starring the Sony release will be a tricky sell to other demographics.
Roberts is well cast as Liz and James Franco and Javier Bardem make appealing love interests.
An August 13 North American release will give the first indication of whether a mix of inspirational female-skewing material and Roberts - who hasn't headlined anything similar for a number of years - can still deliver at the box office. Exotic locations and some non-American actors should add to the appeal of star and book (Eat has been translated into 40 languages) when the film reaches international markets in the autumn.

The 2006 best-seller recounts the post-divorce "year of self inquiry" that took American journalist Gilbert (Roberts) to Rome for the pleasures of the food and language, to India for a spell of spiritual exploration at an ashram, and to Bali for what turned out to be the tentative beginning of a new relationship.

As co-screenwriter, Murphy, best known of course as the creator of Nip/Tuck and Glee, stays broadly faithful to the book but adds characters and incidents that give the film more local colour and overtly emotional moments.

As director, Murphy doesn't try to bring the snappy attitude of his TV work to this, his second feature (the first was 2006 dramedy Running With Scissors). Instead, he emphasizes the romance in Gilbert's story and skims over the culinary travel and multi-culti spiritual aspects.

Roberts is well cast as Liz and James Franco (Milk) and Javier Bardem (Vicky Cristina Barcelona) make appealing love interests. Richard Jenkins (The Visitor) fits less easily as Liz's no-nonsense ashram buddy. Non-American stars in smaller roles include Sweden's Tuva Novotny (The Wedding Photographer) and Italy's Luca Argentero (Diverso da chi?).

The film makes relatively discriminating use of attractive locations in New York, Italy, India and Indonesia.

Productions companies: Columbia Pictures, Plan B Entertainment

Worldwide distribution: Sony Pictures, www.sonypictures.com

Producer: Dede Gardner

Executive producers: Brad Pitt, Jeremy Kleiner, Stan Wlodkowski

Screenplay: Ryan Murphy & Jennifer Salt

Cinematography: Robert Richardson

Production designer: Bill Groom

Editor: Bradley Buecker

Music: Dario Marianelli

Websites: www.letyourselfgo.com (North America), http://eatpraylove-movie.net (international)

Main cast: Julia Roberts, James Franco, Richard Jenkins, Viola Davis, Billy Crudup, Javier Bardem