The actress interviewed the Nobel Peace Prize winner in a live broadcast shown in UK theatres as part of the Into Film Festival.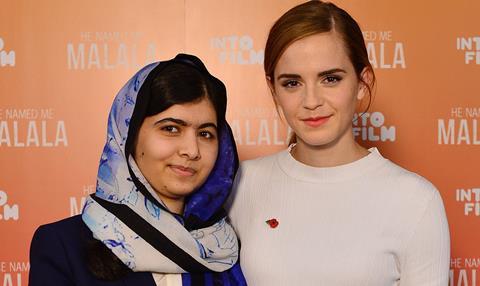 Yesterday (Nov 4), over 10,000 school children and teachers in 80 theatres across the UK watched a satellite-linked conversation between actress and activist Emma Watson and Nobel Peace Prize winner Malala Yousafzai.
As previously reported, the Q&A was broadcast following the "pupil premiere" of the documentary He Named Me Malala, which will be released in the UK on Friday, Nov 6th. The premiere marked the opening of Into Film Festival (Nov 4-20).
The Fox Searchlight film explores Yousafzai's relationship with her father, as well as the lead up to and aftermath of the globally-reported Taliban attack, when Yousafzai was shot by the terrorist group for speaking out about the lack of education available for girls.
Yousafzai is currently spearheading a global campaign through her nonprofit organisation The Malala Fund to help establish safe, quality education for every child, especially girls.
The Q&A focused on topics spanning from Yousafzai's current life in Birmingham and her reaction to the film, to her views on gender, education, and feminism.
Watson also asked questions sent in from students and teachers across the UK, which ranged from enquiring about her favorite teacher, to her current education, to the power of education in general.
During the interview, Yousafzai brought home the importance of everyone, regardless of gender, taking action and supporting her cause.
"This is about the future of all those 66 million girls who cannot go to school right now. It's about our future. It's going to affect every one of us," Yousafzai said. "It's important that we think it is a responsibility that we participate actively in bringing change. It's we who can bring change."
Watson furthered this sentiment with her impassioned plea; calling on boys in particular to stand up and fight for gender equality:
"We really need you, as the next generation, to extend a hand to the girls and women in your life and to include them and to make sure that they can live their lives without discrimination."
Watson is currently a UN Women Global Goodwill Ambassador and advocate for UN Women's HeForShe campaign, which encourages both sexes to campaign against female inequality.
The full interview can now be seen on Watson's facebook page.