Odesa International Film Festival general producer Julia Sinkevych reflects on this year's event's digital industry offering.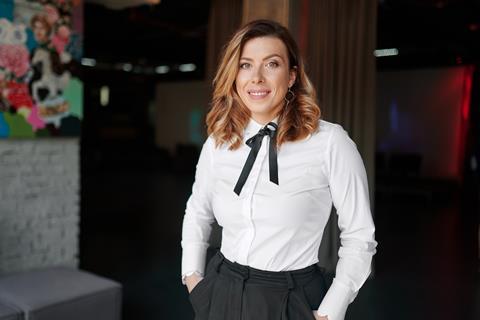 This year, the Odesa International Film Festival (OIFF) has hosted its week of industry events online; an interesting challenge for festival general producer Julia Sinkevych and her team. "Of course, we had to re-shape the programme," Sinkevych says of the experience of putting together the virtual Cinema Backstage programme during the pandemic.
The approach has been to divide the industry events into three main strands. One has been devoted to discussing what opportunities Ukraine will now have as a new member of the Council of Europe's film fund Eurimages, which it joined earlier this year. "Our producers are not yet experienced and aware of how Eurimages functions," Sinkevych says of the practical advice about working with the fund offered during the session.
Curating the Cinema Backstage conference was the highly respected Tamara Tatishvili, who was head of the Georgian National Film Center at the time Georgia joined Eurimages in 2011. She was joined by speakers including producer and EAVE graduate Vladimir Yatsenko, Ukrainian National representative to Eurimages. Last year, Yatsenko produced Evge, the debut feature by Nariman Aliyev, which premiered in Un Certain Regard in Cannes. His most recent film, Atlantis, directed by Valentyn Vasyanovych, won the top prize in Venice's Horizons earlier in September.
"He has several projects in development and [for] coproduction of emerging and very talented directors in Ukraine," Sinkevych says of the producer, who knows the local market well and also has extensive international contacts.
Sinkevych points out that discussions about Ukraine joining Eurimages originally began way back in 2004. "But with constant changes in government, politics, the economic situation etc, this [joining] was delayed. The hope now is that membership will not only provide local producers with an extra source of funding but will provide "opportunities to co-operate with European countries."
International appeal
Ukraine's status as an increasingly attractive location for international production was underlined earlier this summer when Netflix announced it will be shooting its first film in the country, Jean-Claude Van Damme action thriller The Last Mercenary. They were tempted by the fact that Ukraine offers a 25% clash rebate for foreign production, plus 5% for productions which pass a cultural test.
For obvious reasons (namely the ongoing war with Russia), Ukraine is looking to strengthen ties with European partners. Before the war started in 2014, Ukrainian and Russian film industries were very intimately intertwined. "Going back to the very first editions of the festival, there was a lot of co-operation," recalls Sinkevych. "There was a programme dedicated to Russian films. Ukraine provided lots of service productions for Russia. Russian actors and directors were super known in Ukraine and were bigger stars than Ukrainian ones."
That has changed completely. The cultural and political gap between Ukraine and Russia is "getting bigger and bigger." Russian films are banned in Ukrainian cinemas. "It's a really complex and difficult subject," Sinkevych acknowledges of a process she likens to a divorce. One result is that the Ukrainian film industry is looking for markets and partnerships elsewhere, and the new international focus is reflected across the Cinema Backstage activities.
Reflecting the current uncertainty that the pandemic has wrought on the industry, another of OIFF's industry sessions was titled Creativity & mental stability - safe companions on the winding road of 2020.
"Of course, there were lots of discussions and debates on trends and on the future of the film industry, how production will change due to the pandemic crisis, how festivals will change," Sinkevych says of the main talking points at myriad industry events since Covid struck. "But we never really talk about the human side of it, what do people feel, especially in such an interesting and intense sector as the film industry is. This concerns producers, this concerns artists, film directors and actors, who are sensitive. Basically, for a period of time, they lost their instruments [during the lockdown] and what they can do on a daily basis."
The session was therefore focused on how the filmmakers have been coping and what might help them deal with their new predicament. "Some people got depressed. Some people got excited. Some people could maybe relax and not run all the time. Some spent time with their families," Sinkevych says of the very varying reactions. "I can compare it to post traumatic syndrome in a way. We all are going to face it one way or another and we wanted to talk about it."
Finally, the third strand of Cinema Backstage looked at Gender Stereotyping. "This is not the first time we've raised the subject," Sinkevych points out, noting that the festival had a full conference on gender equality two years ago, This time, though, the focus was on gender stereotyping in storytelling. "Sometimes, directors, especially in the male-dominated world, are not even aware of the stereotyping they are using when it comes to female characters."
Sinkevych acknowledges that, while it has been frustrating to have to move industry events online there have been upsides too. "We have more attendees than normal because you don't have to travel. You can just click the button and watch or join the event," she says."It's a new experience for sure. Of course, we all like to meet and have this human and festival energy which you do not feel online. But it (going online) opens up opportunities!"