Dirs/scr: Goran Devic & Zvonimir Juric. Croatia. 2009. 78 mins.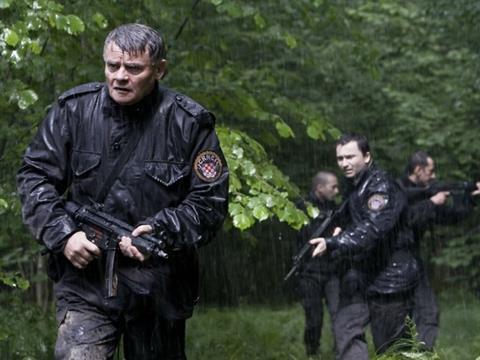 A pitch-dark glimpse at the horrors of the Balkan War, the appropriately titled The Blacks is a relentless story of soldiers driven to psychological extremes by the pressures of the job. Running to only 78 minutes, it's a short but effective insight into the tortured minds and frazzled relationships within a squad known as The Blacks on a final, fateful mission.
Screened in competition at Pula, where it won the directing prize, and Sarajevo, it is perhaps too grim to resonate outside the region, although The Blacks may become a cult item online for male fans of tough-as-nails combat stories.
Writer/directors Devic and Juric deploy a reverse structure in the film, starting out with a mission into a mine-strewn forest that ends in tragedy after 20 minutes and then tracking back to the previous day for the remaining running time to explain what had led up to it.
The squad is commanded by Ivo (Gregurevic), who has defied a ceasefire and taken his men out to blow up a dam and retrieve the bodies of three of their dead. They, however, are close to breaking point after months (maybe years) of systematically interrogating and killing the enemy in a room at base they call "the garage".
The film suffers alongside Serbian film Ordinary People, which bowed at Cannes, won the Sarajevo Competition, and told a similar story of a troupe of men assigned to perform appalling acts. But where Ordinary People is subtle and cinematically eloquent in its portrait of the psychological damage on footsoldiers, The Blacks uses sledgehammer techniques to lesser effect.
Production company/international sales
Kinorama
+ 385 1 231 6787

Producer
Ankica Juric Tilic

Cinematography
Branko Linta

Production design
Mladen Ozbolt

Editor
Vanja Sirucek

Music
Jura Ferina & Pavao Miholjevic

Main cast
Ivo Gregurevic
Emir Hadzihafizbegovic
Rakan Rushaidat
Franjo Dijak
Kresimir Mikjic