Dir: Christian Carion. France. 2009. 114 mins.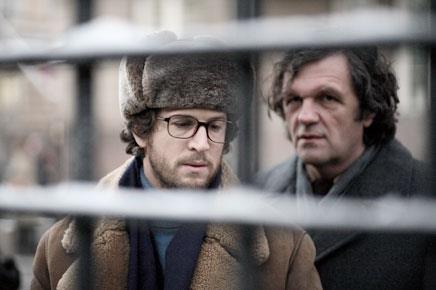 In the early 1980s, a high-ranking KGB officer in Moscow decided to let the West know just how thorough Soviet infiltration was, a bold gambit which hastened the collapse of the USSR. Christian Carion's dramatisation of the events surrounding the man French intelligence codenamed 'Farewell' is a harrowing, richly human and well-acted espionage tale, anchored by a complex performance from Emir Kusturica.
Carion should continue his successful career in France (The Girl from Paris scored 2.4m admissions; Joyeux Noel, 2m) with this solid, slightly old-fashioned spy drama when the $24m Farewell sallies forth in France on September 23 (it premiered at the Paris Cinema Festival). Like Joyeux Noel, which cast German, French and British actors speaking their native languages, this uses Russian, French and English dialogue in appropriate, convincing ways, something which should help the film's international career through Pathe.
Reagan's habit of showing top aides the shoot-out in The Man Who Shot Liberty Valance is a sly tactic to remind viewers that there can be more than one point of view on events.
Hitting the same emotional marks as German Oscar hit The Lives of Others, Farewell additionally benefits from the true underpinnings of this incredible story. Viewers old enough to recall the political atmosphere of the early 1980s will be impressed – the spy stakes here seem real.
With opening documentary footage providing a crash course in Cold War rivalries, Farewell starts out in Moscow's French compound in the spring of 1981, where Pierre Froment (Canet), an engineer for a French electronics firm, lives with his wife Jessica (Alexandra Maria Lara). After doing his boss a favour, Pierre ends up as an unlikely go-between when Serguei Grigoriev (Kusturica) feeds him intelligence documents he claims are hot stuff.
Pierre thinks the hulking Russian who insists on speaking French has delusions of grandeur, but the head of the French secret service (Arestrup) reveals that Grigoriev is in fact a KGB colonel and an extraordinary, almost certainly reliable, source, oddly motivated by love for his own country.
Freshly elected French president François Mitterand (a wry Philippe Magnan) decides to share the damning evidence with Ronald Reagan (Ward), who initially responds that "this Farewell business is just hokey" but changes his mind when it reveals the existence of KGB moles in the CIA, the Pentagon, everywhere. And what the West does with this information is riveting.
There's a certain clunkiness to the early White House scenes which drops away as the intrigue escalates, abetted by some lyrical camerawork.
Pierre and Serguei are portrayed as men who love their wives and children but must resort to layers of lying and subterfuge; the deceit and intrigue take a convincingly explored toll on both men.
Reagan's habit of showing top aides the shoot-out in The Man Who Shot Liberty Valance is a sly tactic for reminding viewers that there can be more than one point of view on events. Here the perspectives are French, Russian and American, which not only adds narrative depth but should render the film of interest to broader audiences.
The Big Brother atmosphere in a period Moscow (shot mostly in Ukraine), is stifling and the tense script is riddled with little paranoid touches which ratchet up the suspense. Given the era, there are no cell phones or faxes or computers: the protagonists must resort to tactics such as meeting in a park after a convoluted trip on the Moscow subway.
Willem Dafoe is sharp as the head of the CIA, while Ingeborga Dapkunaite excels as Serguei's wife, Natasha.
Production companies
Nord-Ouest Films
Le Bureau
Pathé
France 2 Cinema
Blackfeet Pictures
Une Hirondelle Productions
International sales
Pathé
+ 44 (0) 207 462 4427
Producers
Christophe Rossignon
Bertrand Faivre
Philip Boeffard
Screenplay
Eric Raynaud
Christian Carion, based on Bonjour Farewell by Sergei Kostine
Cinematography
Walther Vanden Ende
Production design
Jean-Michel Simonet
Editor
Andrea Sedlackova
Music
Clint Mansell
Main cast
Emir Kusturica
Guillaume Canet
Alexandra Maria Lara
Ingeborga Dapkunaite
Oleksii Gorbunov
Dina Korzun
Philippe Magnan
Niels Arestrup
Fred Ward
David Soul
Willem Dafoe
Evgenie Kharlanov