This year's American Film Market is already shaping up to be a vibrant affair with a host of new companies from prominent industry veterans setting out their stall to tempt international buyers.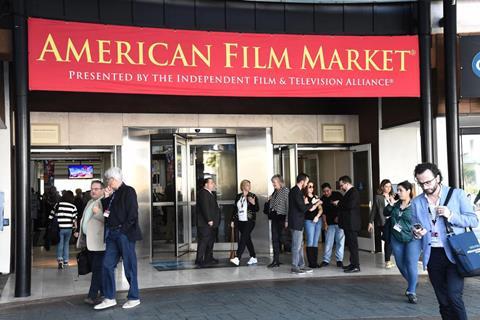 Hope springs eternal on the eve of a market. New players are circling, lured back into the independent space by the promise of opportunity that continues to drive established participants.
Former Warner Independent Pictures chief Mark Gill is building a pipeline and an executive suite at Solstice Studios with $400m in backing. Some $150m is coming from Ingenious Media and the rest from an unnamed high-net-worth US family. Gill says he cannot recall a time of greater opportunity in the US distribution space outside the studio system.
Tom Ortenberg, the former Lionsgate and The Weinstein Company ace distributor who escaped from Global Road Entertainment before it imploded, is building a business at Briarcliff Entertainment. The US launch of Michael Moore's Fahrenheit 11/9 did not go as planned, yet distribution comes with hits and misses, so the return to the fray of a seasoned distributor will be viewed with interest.
And David Glasser, until recently chief operating officer of The Weinstein Company, is launching a distribution and sales outfit with Dave Hutkin and will be at the market, while it would appear to be only a matter of time before Patrick Wachsberger announces his new venture.
Market forces
The return of these US veterans demonstrates the perennial optimism in a business that, by and large, still drives international sales.
Many more established US sales and distribution outfits are surviving, some even thriving. Others, like Global Road, are not. A year ago, Donald Tang's new entertainment company was talking the talk before it collapsed. The international buyers could have used another supplier of commercial theatrical content as they struggle to compete with Netflix and the studios for top-notch product.
The smart buyers are adapting, partnering with capital sources to own content, diversifying into TV, or exploring ties with streaming platforms. From the start, Glen Basner's FilmNation Entertainment chose to seek opportunities and refused to be constricted by a narrow business plan.
"We built a development and production business on top of the sales business and then laid on a production and finance business," says Basner.
"The idea behind that was the realisation that if you're going to deliver successful films consistently then we needed to have some type of creative voice in the process."
Basner says the approach enables FilmNation to remain invested in content through a variety of roles, and bet on the relatively few projects that genuinely excite. Some, like Life Itself, disappoint at the US box office. Others, like The Big Sick and Arrival, soar. FilmNation has also invested in theatre and its first, as-yet-unnamed TV project kicks off in 2019.
This year, the company introduced the two biggest projects of Cannes and Toronto. The all-female action thriller 355 is scheduled to begin shooting next spring — even though the participation of Fan Bingbing remains unclear in light of her tax issues in China. And, in Toronto, Basner launched pre-sales on the Rian Johnson-directed Daniel Craig spy thriller Knives Out. Media Rights Capital (MRC) took that package off the table in a worldwide deal, prompting one high-level observer to question the impact when independent international buyers cannot afford commercial A-list theatrical packages that come to market.
Not surprisingly, Basner disagrees. He argues Universal only acquired the US rights on 355, while independents snapped it up everywhere else. "On Knives Out, the other option [MRC] was a more aggressive option and the filmmakers chose to go with that," he says. "It's not our job to tell independent distributors what they should be aggressive on and what they shouldn't. It's our job to present them with what we believe are exciting opportunities for the marketplace."
Stuart Ford's new AGC Studios made a splash in Cannes with pre-sales on Midway and Missing Link, yet the UK entrepreneur has deliberately built a company that does not rely solely on sales as its core business, and can produce and finance across a range of content forms.
"In an environment of rapid industry change, AGC's strategy of maintaining maximum flexibility in financing structures and remaining platform-agnostic is geared towards pursuing the opportunities the new landscape offers and eliminating reliance on traditional financing and distribution models," says Ford, who adds that he has more than 20 features in the $5m-$70m range in active development or in discussions with platforms.
"AFM is a potentially useful but by no means essential trading post for the company. We are selling or setting up movies and TV shows 52 weeks a year."
Alison Thompson of Cornerstone Films generally champions feature content that skews to a more-mature audience. Australian drama Dirt Music has just gone into production, while Cornerstone's first production, a remake of The Changeling, demonstrates a shift in approach.
"Like everybody, we're becoming increasingly embedded in the material at an earlier stage," says London-based Thompson. "I don't think we can define ourselves for much longer as a business that's focused on just one kind of content. The line between film and TV is becoming increasingly opaque."
Financing issues
These days the ability to get films into production is critical, says Gabrielle Stewart, managing director of HanWay Films. "It's very, very hard for distributors to take a punt on a pre-buy, even with a star, because you don't know if the star will drop out," she says. "If you can come to the market with a project that's fully financed and going, that's good. The Song Of Names is currently shooting and was financed without pre-sales [the Holocaust mystery stars Tim Roth and Clive Owen]. It's hard to know where we will be in six months or a year and if you're pre-buying, you're committing to a film that will be delivered 18 months later."
HanWay's AFM slate includes Viggo Mortensen's feature directorial debut Falling, set to shoot in early 2019, and Ron Howard's documentary Pavarotti, which is expected to be delivered early next year. Stewart will show first footage at AFM, where she believes it is easier to focus because there is no distraction from a festival.
Santa Monica is also a good place to wrap up the year's business and start talks on the following year's slate and production titles. Jonathan Kier, president of sales and distribution at eOne-owned Sierra/Affinity, is coming off a spectacular Toronto where the company's high-profile festival selections Vox Lux, Wild Rose, Greta, Donnybrook and out-of-festival screening Stan & Ollie all found US homes.
Kier notes AFM is a big market for the company and offers a rare opportunity to catch up with global partners in one place. Now the question remains: will there be enough new projects for everyone to get excited about 2019 and beyond?