International buyers snapped up Korean titles like never before at Cannes this year. Now another full slate is ready for AFM.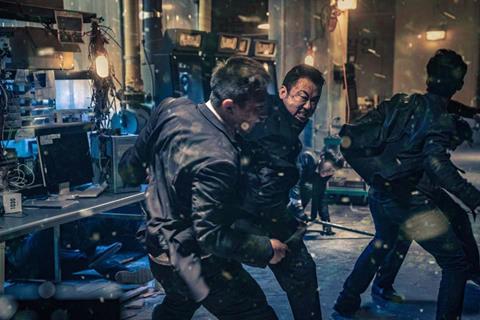 Local films are holding their own at the South Korea box office this year. They have taken 51.5% of market share, similar to last year's final 51.8%, while US films have taken 44.7%, Japanese films 1.4%, UK films 1% and French films 0.4%. Local afterlife saga sequel Along With The Gods: The Last 49 Days is at the top of the charts with more than $90m, followed by Hollywood hits Avengers: Infinity War (with $88m) and Mission: Impossible — Fallout ($49m), according to the Korean Film Council (KOFIC).
Theatres have seen 502 new local releases this year, as of October 25, already surpassing last year's total of 495 titles. Total box office so far is at $1.3bn, on par with the same period in 2017 after which the final total reached $1.5bn.
Most notably, Korean film sales from Cannes hit a record high of $10.3m, up 47% from the previous record in 2017, according to KOFIC. The Spy Gone North, The Drug King and Monstrum led the charge. Here at AFM, Korean sales companies have slates with plenty of new titles including many from official selection at Busan International Film Festival. They include M-Line's recent pick-up Maggie and Mirovision's animation Shaman Sorceress. Works in progress include Bong Joon Ho's much-anticipated Parasite at CJ, The Chaser star Kim Yoon-seok's directorial debut Another Child handled by Showbox, and newly launched K-Movie Entertainment's crime action film The Gangster, The Cop, The Devil, starring Don Lee (aka Ma Dong-seok from Train To Busan).
Another Child
Dir: Kim Yoon-seok
Veteran Korean actor Kim, known for his roles in hits such as The Chaser and 1987: When The Day Comes, is making his feature directing debut with Another Child. The drama follows what happens when a 17-year-old girl discovers her father (played by Kim) is having an affair with the mother of one of her classmates. The two girls try to stop their parents from seeing each other, but only make things worse. To top it off, they discover that the mother, a single parent, is pregnant. Starring Yeom Jung-a (The Mimic), Kim So-jin (The Spy Gone North), Kim Hye-jun and Park Se-jin in their feature debuts, along with Kim Yoon-seok, Another Child is in post-production. Contact: Showbox sales@showbox.co.kr
The Gangster, The Cop, The Devil
Dir: Lee Won-tae
Lee's second feature, following period drama Man Of Will, is a crime thriller starring Don Lee (aka Ma Dong-seok from Train To Busan) as the gangster, Kim Moo-Yeol (Illang: The Wolf Brigade) as the cop and Kim Seong-gyu (The Outlaws) as the devil of the title. In Cheonan, a cop senses a series of murders have all been carried out by the same killer and starts investigating, making an unlikely deal with a gang boss. The $9m film is in production with a release due in 2019. Contact: K-Movie Entertainment sales@kmovieenter.com
Maggie
Dir: Yi Okseop
This debut feature from director Yi, a graduate of the Korean Academy of Film Arts, is also the 14th human-rights film project supported by South Korea's National Human Rights Commission. Lee Juyeong picked up the actress of the year award for her performance in the film at the recent Busan International Film Festival, where it made its world premiere. The film also won the CGV Arthouse Award, the Citizen Critics' Award and the KBS Independent Film Award at the festival. When the discovery of X-ray photographs of sexual intercourse causes trouble at a hospital, one of the nurses goes in to resign but discovers the place nearly abandoned. Meanwhile, strange sinkholes have started to appear in Seoul and her boyfriend is one of the young labourers recruited to fill them up. The cast also includes Moon So-ri, Koo Kyo-hwan, Kwon Hae-hyo and Kim Kkot-bi. Contact: M-Line Distribution sales@mline-distribution.com
Pamir
Dir: O Muel
Written and directed by O, who won the Sundance World Cinema Grand Jury Prize for Jiseul in 2013, Pamir stars Lee Ju-seung in a story about people who lost their friends and family in the infamous Sewol ferry disaster. Suffering from loss and survivors' guilt, their journeys of love and healing take them to Pengmok Harbor and as far as the Trans-Siberian railway. Veteran filmmaker Tcha Seung-jai, whose credits include Memories Of Murder and Musa The Warrior, is executive producing through his company OBRA Creative. O's Japari Film is co-producing. The film has been expanded from a short film concept the director made for Korean cable broadcaster JTBC and is now shooting in Korea, Mongolia and Russia until December. Pamir is set to be released in the second half of 2019. Contact: Jason Chae, Mirovision jason@mirovision.com
Parasite
Dir: Bong Joon Ho
Bong, the director of Okja and Snowpiercer, returns to Korean-language filmmaking with this fourth collaboration between him and top star Song Kang-ho, with whom he worked on Memories Of Murder, The Host and Snowpiercer. Parasite is about an unemployed family led by Ki-taek (played by Song) that takes a peculiar interest in the more affluent Parks, leading to unexpected entanglements. The film also stars Lee Sun-kyun (A Hard Day), Cho Yeo-jeong (Obsessed), Choi Woo Shik (Okja, Train To Busan), Park So-dam (The Priests) and Chang Hyae Jin (Poetry). Produced by Barunson E&A, Parasite wrapped in September and is now in post-production, set for local release in 2019. Contact: CJ Entertainment filmsales@cj.net
Second Life
Dir: Park Young-ju
One of the buzz films from the recent Busan International Film Festival, Park's Second Life made its world premiere in the New Currents competition. Starring Jeong Da-eun (Summer Night) and Jeon Guk-hyang, the film follows a high-school student as she tells a small lie to win attention from her peers but ends up contributing to a friend's suicide. The shock of witnessing her friend's death sends the girl fleeing to the countryside where she takes on a new identity. Second Life is Park's graduation film from Korea National University of Arts. She previously participated in the Cannes' Cinefondation with 1 Kilogram. Contact: Finecut cineinfo@finecut.co.kr
Shaman Sorceress
Dir: Ahn Jaehuun
This animated feature is based on a novel by Nobel Prize nominee Kim Dongri (aka Kim Tong-ni) about a mudang who has been living with her mute daughter and practising shamanism for years. When her son returns home a Christian, the conflict between Korean traditions and western culture bring about the downfall of the family. Leading Korean animation director Ahn, whose credits include Green Days, made the film with his studio Pencil Meditation. Presented at Annecy International Animated Film Festival in 2016 as a work in progress, the film made its world premiere in the recent Wide Angle Animation Showcase at Busan International Film Festival. Contact: Jason Chae, Mirovision jason@mirovision.com
The Wrath
Dir: Yoo Young-seon
This remake of legendary 1986 horror film Woman's Wail is directed by Yoo Young-seon, best known for The Wicked. The film stars Seo Young-hee from Madonna and The Chaser and Son Na-eun from the K-pop group Apink. In one of the Joseon dynasty's most powerful families, the sons are each found dead on their respective first days of marriage. When a young woman is paid for and brought in to marry the last and youngest son, he dies as well, but not before making her pregnant. Produced by Footprint Factory Inc, the film is set for a November 8 release in Korea. Contact: Contents Panda sales@its-new.co.kr