As A-list projects become more difficult to package, talent heads to TV and the Netflix effect remains uncertain, can AFM offer a silver lining, asks Jeremy Kay.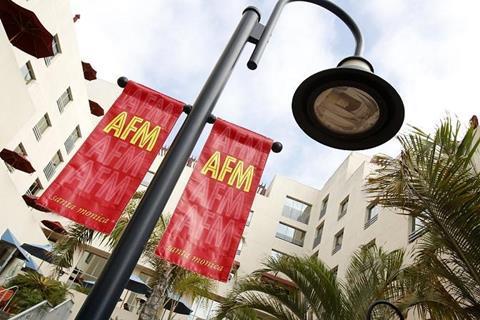 After a quiet Berlin, a low-key Cannes and a traditionally sleepy Toronto for international sales, word is that AFM could complete a grand slam of muted markets.
Eleventh-hour announcements are not unheard of and there are rumours Quentin Tarantino may drop in to trumpet The Hateful Eight, but at time of writing the independent film business was steeling itself for a distinct absence of showboating in Santa Monica.
Buying and selling films in the space of a week offers a mere sketch of the detailed industry that exists year-round, however there is nothing like a market to bring things into sharp focus and the picture of 2014 so far is one of hard graft.
The difficulty in assembling A-list packages stems from a perfect storm of mediocre screenplays, the ongoing talent exodus to TV, a furiously competitive US distribution arena that has seen notable flops such as Transcendence, and the alarmingly slow rate at which digital is filling the DVD void.
It is difficult to ignore these words spoken by Alison Thompson in her recent keynote at Film London's Production Finance Market: "As we all know, the situation now is just about as bad as it can be."

Finding the 'right stuff'
Yet opportunity knocks for the tireless entrepreneur willing to look anew at the life cycle of a film and, in these times of pioneering entertainment technology, perhaps even redefine the notion of what a film can be.
The global business is awash with capital sources including a cavalcade of investors and content-hungry behemoths such as Alibaba from China, while international buyers remain hungry for exceptional entertainment and Netflix continues to throw about its weight.
'Netflix has been incredibly supportive of our movies. They're expanding territorially and are very hungry for material'

Harold van Lier, eOne Films International
Sales companies attest to that company's value as a pay-TV buyer but privately they will be intrigued and wary of how their brilliant new partner's production and window-smashing distribution ambitions play out.
"We've got great deals with Netflix in the UK and Canada," says eOne Films International president Harold van Lier. "They have been incredibly supportive of our movies. They're expanding territorially and are very hungry for material."
Van Lier and eOne film production president Xavier Marchand are ramping up the home-grown slate and forging ties with the likes of David Lancaster's Rumble Films as they assemble a reliable supply line of content.
"There's always that angst with salesmen to go to the production team and say, 'Have you got anything?', but ultimately you have to go out with the right stuff."
Van Lier will show footage from Captain Fantastic starring Viggo Mortensen and hopes to treat buyers to something from Trumbo and Eye In The Sky, both of which recently started production.
"As a buyer we're focusing that much more on directors," he says, citing a lack of "great scripts" in the marketplace. "In Cannes we jumped on films by Denis Villeneuve and JA Bayona. We have distributed Prisoners and The Impossible before."
The London-based sales chief believes the theatrical experience will endure so long as savvy audiences are served original material. Furthermore his taste for auteurs removes the need to always sign A-list stars.
"A lot of actors are busy for the next year and don't want to commit, even six to eight months from now," says Fortitude co-principal Nadine de Barros, who recently boarded the thriller Urge starring in-demand Pierce Brosnan.
Fortitude wants to mount more productions. Everybody does. De Barros does not say it, but home-grown product is one way of avoiding what one seller refers to as "irresponsible" over-priced bidding by sellers on desirable third-party packages.

Taking to TV
De Barros knows a thing or two about television and is preparing three mini-series to diversify the business. "There's no shame any more in doing TV," she says. "You've got Halle Berry doing TV and she's still doing movies and sells really well."
It is particularly tricky to attach talent at this time of year. "There are all these companies trying to get movies packaged at the same time based on this artificial timeline. AFM, Sundance, Berlin - these don't mean anything to actors," she says.
"There are some stars that work in certain individual markets and those who work across all the markets," adds Vincent Bruzzese of research group C4, who cites Emma Watson and the enduring staple Bill Murray as two stars who can generate wide excitement among buyers. Red-hot Ethan Hawke must surely be added to that list.
Recent editions of AFM have hosted a number of buyer presentations by A-list talent. This was virtually unheard of five years ago because the market is not officially part of a festival and there is little reason for talent to be present. Last year, tub-thumping by Russell Crowe for The Water Diviner, Elton John and Tom Hardy for Rocketman, and Don Cheadle for Kill The Trumpet Player spurred pre-sales and injected much-needed glamour into the event.
A US distribution deal, as Bruzzese notes, "trumps everything." Thompson, who is quietly building London-based Sunray Films after the closure of Focus Features International, touched on this as a jumping-off point in her London keynote.
'There are some stars that work in certain individual markets and those who work across all the markets'

Vincent Bruzzese, C4
"I am encouraged by what's happening in the US in that there does seem to be very renewed competition in distribution," she said. "There are now some premiere VoD windows that are really beginning to work."
Lionsgate and Tribeca Enterprises are about to launch SVoD service Tribeca Short List and digital players such as Netflix, Amazon, IFC, Magnolia, Gravitas, Amplify, Vimeo, Hulu et al continue to build their empires. At a time of clear bifurcation in the overloaded theatrical business, digital channels provide ample opportunities for aggregators and producers alike and sellers are well aware of the need to engage.
"This is part of the new future," says Content Media president of film Jamie Carmichael. "It's part of the polarisation of big film and specialised arthouse films in the cinema and everything else is coming to you on the small screen. The biggest trend is the convergence of everything. If you just have the old model where you're only doing film sales with no library and nothing else and you're not funded by a hugely capitalised group, it's going to be complicated."
Carmichael cites the company's production alliances with the likes of Preferred Film & TV and Alex Gibney's Jigsaw Productions as critical, illustrating again the premium on excellence in product supply. He and his cohorts have worked hard to build a brand that caters to film, TV and digital. "We look at every film, country and right and dissect it to work out the best way to do them. It's not just about the three sales guys I have in film; it's the 13-14 of us I have across the group in film, TV and everything."
Digital is reshaping the landscape and cannot be ignored. As the contracting advertising market caused TV sales to dwindle, Netflix came in and established a growing pay-TV network across nearly 50 countries and forced its way on to the table.
Sales companies have no choice but to engage, even if, as some point out, Netflix minimum guarantees effectively act as flat licensing fees that put an end to overages. With HBO and CBS cutting the cord, it would take a reckless soul in the independent space to not get behind the great unbundling of entertainment.
Another side to this is that like YouTube and others, Netflix owns a lot of proprietary information on consumer behaviour. An article in The Atlantic claimed the company had identified more than 76,000 genre categories based on viewer patterns.
This is great for algorithms that keep visitors on the site. It could also be applied forensically to create content that customers do not even know they want until it comes out. The company is producing TV series Marseilles in France and Narcos in Colombia. Then there is the four-film Adam Sandler deal that has drawn the ire of exhibitors after it emerged the films will premiere on the streaming service.
Giants of the US exhibition circuit have already refused to carry Crouching Tiger, Hidden Dragon: The Green Legend, which Netflix and Imax said would premiere simultaneously online and in the large-screen format in August 2015. It remains to be seen whether the first-run feature aspirations of Netflix will land the independent suppliers of its pay-TV business in hot water with exhibitors.

A shifting AFM
For now, everybody is waiting to see what will happen, rather like the wait for the avalanche of prestige AFM projects.
"The soufflé rises when it's ready," says Sierra/Affinity CEO Nick Meyer, whose company is behind the acclaimed autumn festival trio of Nightcrawler, Whiplash and Rosewater and is also pushing into production. "It's as close to AFM as the talent and producers and agencies can make it. Buyers want something that's a viable theatrical movie and that leads the rest of the train [ancillary distribution]."
Independent Film & Television Alliance (IFTA) president Jean Prewitt has noted a broad divide among the needs of members.
"The larger companies have been much more engaged with us as we fight with the US government to get implementation of open market regulations in China and for the ability to import theatrical films into China," says Prewitt.
Meanwhile the more modestly sized membership will appreciate how IFTA and AFM top brass have set up umbrella stands for groups such as Japan's JETRO and converted hotel rooms in the Loews to accommodate shared space for those keen to keep costs down. At time of writing Prewitt and her team had already sold 40 slots. "That demand wasn't there five, 10 years ago for a relatively small space and people working in a group setting."